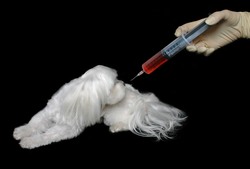 Few of us are warned about the rabies vaccine's possible adverse effects. Worse yet, delayed or unexpected reactions often go unlinked to the shot.
San Diego, CA (PRWEB) May 1, 2008
Chiclet T. Dog, canine co-author of the award-winning book 'Scared Poopless: The Straight Scoop on Dog Care', announces a $35,000 matching gift to the Rabies Challenge Fund. The Fund is conducting studies to prove that vaccine immunity persists for at least five years, and maybe as long as seven. Phase Two of the study will investigate vaccine additives called adjuvants and set up a reporting system for adverse reactions.
A feisty four-pound Maltese dog named Chiclet, her guardian Jan Rasmusen and two anonymous donors announce a joint $35,000 matching gift to the Rabies Challenge Fund Charitable Trust. Rasmusen and Chiclet, co-authors of the national award-winning book Scared Poopless: The Straight Scoop on Dog Care, hope to raise public awareness about problems with present rabies vaccination protocols and encourage other dog lovers to help fund this important study.
The Fund's study does NOT challenge the need for this important vaccine. Rather, it employs USDA vaccine-licensing standards to determine if immunity provided by a rabies shot persists for at least 5 years, and hopefully seven. Phase 2 will investigate the safety of veterinary vaccine adjuvants and set up a badly-needed reporting system for adverse reactions to this and other vaccines.
Rasmusen began studying vaccination dangers when her dog Jiggy developed autoimmune liver disease after a rabies shot. She says, "We have the chance to better the lives of, not just hundreds of dogs, or even thousands, or even hundreds of thousands of dogs. We can potentially help improve the health of every dog in America. How exciting is that!"
Throughout the summer, the donors will add $1 for every $2 donated (for donations of $100 or more). Thus, public donations totaling $70,000 will bring the Fund $105,000. Chiclet will throw in a paw-tographed copy of Scared Poopless for donations topping $500.
Although the rabies vaccine is well-documented to give immunity for three years, blood studies (serum antibody titers) have shown protective immunity to persist seven years after vaccination. Regrettably, some states and localities in the U.S. still mandate vaccination annually or biannually. Because the vaccine is linked to numerous behavior and health problems, over-vaccination can be dangerous. Documented immediate, and delayed-onset, reactions include:

Injection site cancer
Seizures and epilepsy
Autoimmune diseases
Blood diseases
Allergies
Skin diseases
Chronic digestive disorders
Muscle weakness
Behavior Problems: aggression, OCD, separation anxiety
Loss of consciousness
Death
Unfortunately, official reporting of adverse reactions s is voluntary and rare. Rasmusen says, "Few of us are warned about the rabies vaccine's possible adverse effects. Worse yet, delayed or unexpected reactions often go unlinked to the shot."
Nationally-renowned pet vaccination experts Dr's. Jean Dodds and Ronald Schultz, and their staffs, are donating their services for this study. The University of Wisconsin School of Veterinary Medicine, site of the study, has waived its normal 48% overhead charge. For all involved, this is a labor of love.
Rasmusen has prepared an entertaining and informative video slideshow starring Chiclet called Dog Rabid About Rabies Vaccine Dangers. Rasmusen hopes the humorous video, packed with cute photos and easy-to-digest information, will alert dog "parents" to vaccine dangers and prompt them to take action.
Chiclet's friend, the canine superstar Benji, has a cameo role in the video and also lends support: 'This important study is long overdue. I give the Rabies Challenge study four BIG paws up!'
Surprising Facts:

In 2007, the Center for Disease Control declared CANINE rabies nonexistent in the U.S. Dogs will not contract rabies from other dogs, but only from wild animals such as bats, coyotes, skunks, raccoons and foxes.
A Chihuahua and a Great Dane get the same size dose of vaccine.
The USDA will not accept blood antibody tests showing seven-year immunity, or a 1992 French challenge study proving five-year immunity. As a result, dog lovers wanting to stop needless over-vaccination must fund research themselves.
Dog lovers, many of whose dogs have experienced severe vaccine reactions, have funded approximately eighteen months of the study. Donations to complete the study may be made at The Rabies Challenge Fund Charitable Trust, a 501(c)(3) charitable organization. Extensive information and vaccination safety tips are available at Truth4Dogs.org. Rasmusen urges dog lovers to post their experiences with the rabies vaccine in this Guestbook.
About Rasmusen and Chiclet:
Scared Poopless won the Ben Franklin Award for Best Health Book and the USABookNews Award for Best Pet Health Book. A frequent guest on numerous television and radio broadcasts, Rasmusen publishes a popular free e-newsletter on natural health care for dogs.
Contact Jan for interviews and hi res photography at 858-449-8898 (PDT). Short-notice interviews are welcomed.
Charitable Inquiries:
Rasmusen currently makes donations only to the rabies vaccine study. Low-cost copies of Scared Poopless, and her natural nutrition recordings, are offered to nonprofits for fundraising.
Jan Rasmusen
858-449-8898 PDT
San Diego, CA
###