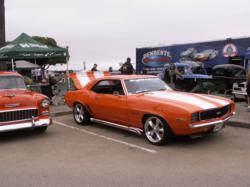 We were able to meet and talk with many car enthusiasts who were interested in getting custom wheels and tires that fit their car as perfectly as the ones on the Camaro
Sunnyvale, CA (Vocus/PRWEB) July 05, 2011
It is car show season in California and one car has been wowing those in attendance throughout the state. The Capitola Rod and Custom Classic Car Show (http://www.capitolacarshow.com) was held on the weekend of June 11-12 and the talk of the event was the BigWheels.net 1969 Camaro RS Pro Touring Car. With an easily recognizable and iconic look, orange with white stripes, the car helped the show rake in some of the largest attendance numbers in its history.
"We were able to meet and talk with many car enthusiasts who were interested in getting custom wheels and tires that fit their car as perfectly as the ones on the Camaro," said Barry Goldine of BigWheels.net.
The car rolled on to the Classic at Pismo Beach Car Show (http://www.thepismobeachclassic.com) the next weekend, June 16-19. Many feel this event has become the premiere car show in California. This year more than 1,000 of the best Custom and Classic cars were in attendance. The BigWheels.net 1969 Camaro RS was very popular among the attendees and the judges and was awarded a prestigious award for being one of the most popular attractions of the event.
Next up is a stop at the Hot San Jose Nights (http://www.hotsanjosenights.com) this coming weekend. From July 6-10 the car will be featured at the car show at the Santa Clara County Fairgrounds. The show has a bit of everything for both car lovers and those just seeking a great time enjoying great cars during a fine Northern California summer.
During the show there will be a 10 percent discount on wheel and tire purchases for BigWheels.net to those visiting the Camaro at the show. Just look for the distinctive orange Camaro with white stripes and enjoy the custom-built rocker-style coil over independent rear suspension while picking up a coupon for these services.
In addition to a busy car show schedule, BigWheels.net's Barry and Steven have been auto crossing the company sponsoring A-Modified Tui formula car in the American Auto-X Series and the SCCA Solo 2 events. The drivers and the "Old School" car have performed well with first and second finishes in the last three events.
About BigWheels.net
BigWheels.net is the most versatile custom wheel website on the Internet. Their website offers a wide variety of custom wheels and tires. They offer a Fitment Guarantee to ensure that what they recommend will fit a vehicle properly. In business since 1990, primarily servicing new car dealerships in San Jose and throughout the San Francisco Bay area, their relationships with dealers give them the opportunity to gather accurate fitment data for most models of new cars, trucks and SUV's as soon as they arrive at the dealers.
###