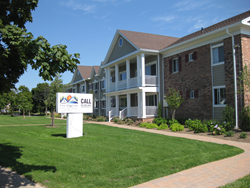 "Discrimination based on the race or color of a person prevents individuals and families from accessing the benefits of living in communities of opportunity.
Smithtown, NY (PRWEB) March 01, 2016
ERASE Racism and the Fair Housing Justice Center announce the successful settlement of their federal housing discrimination lawsuit, which they filed with seven individual plaintiffs against the owner and management company of a Commack apartment complex. The settlement resolves the lawsuit ERASE Racism, Inc., et al. v. Empire Management American, Corp., et al. (15-CV-03376-NRB, US Dist Ct, SD NY), which alleged violations of the federal Fair Housing Act and the Suffolk County Human Rights Law. The settlement provides $230,000 for plaintiffs' damages, attorney's fees and costs and requires substantial changes to the rental operations at the apartment complex, located off Jericho Turnpike at 11 Mayfair Garden, Commack, New York.
The case stemmed from an investigation, jointly funded by ERASE Racism and the Fair Housing Justice Center (FHJC), of the rental procedures at the Mayfair Garden Apartments, a 107-unit apartment complex located in Commack in the Town of Smithtown, Suffolk County. As alleged in the complaint, using testers, the investigation detected significant discrepancies between the welcoming responses received by white testers and the discriminatory actions endured by African American testers who were seeking to rent apartments. In addition, the apartment complex superintendent discouraged African Americans from renting apartments by misrepresenting the availability of apartments, not showing available apartments, and/or misrepresenting the dates apartments were available to rent. The filed lawsuit requested injunctive relief and damages against the defendants.
The defendants, Empire Management America Corp. and Square Realty Group, LLC, both based in Manhattan, NY, along with the complex superintendent, are required by the court-ordered settlement agreement to undertake crucial actions to prevent future discrimination, including: fair housing training of the defendants and their employees and/or agents involved in showing, renting and marketing apartments, and evaluating and processing rental applications at Mayfair Garden; record keeping of vital documents, including rental applications and denials; adoption of an anti-discrimination policy; and publication of fair housing language in its advertisements and applications. The settlement also requires that a HUD fair housing poster be displayed at the property in a location clearly visible to the general public. The settlement provides ERASE Racism the power to examine records to ensure compliance with these requirements for three years.
The Settlement Agreement and Order, signed by United States District Court Judge Naomi R. Buchwald and entered on February 29, 2016, resolves the case collectively to the nine plaintiffs in the complaint. ERASE Racism was represented with the co-plaintiffs by attorneys Diane Houk and Theodor Oxholm of Emery Celli Brinckerhoff & Abby LLP.
Following the settlement, ERASE Racism President Elaine Gross said, "Discrimination based on the race or color of a person prevents individuals and families from accessing the benefits of living in communities of opportunity. This discrimination is not only illegal, but serves as a significant barrier to ensuring that people have fair housing choice. ERASE Racism is pleased to have obtained a positive outcome and hopes that this settlement will provide African Americans, who constitute approximately 1% of Smithtown's population, access to Smithtown, a town whose population is over 95% white, and its good public schools."
FHJC Executive Director Fred Freiberg stated, "We are very pleased that this agreement will open up rental housing opportunities at this suburban apartment complex." Freiberg added "Continuing racial discrimination limits housing choices available to African Americans, fortifies existing patterns of residential segregation, and perpetuates myriad inequalities in our metropolitan region. It is a painful and poignant reminder that we are not living in a post-racial society and that our efforts to eradicate racially discriminatory housing practices must continue."
About ERASE Racism: ERASE Racism is a regional organization that leads public policy advocacy campaigns and related programmatic initiatives to promote racial equity in areas such as housing, public school education and healthcare. It engages in a variety of research, education and consulting activities to identify and address institutional and structural racism, primarily on Long Island.