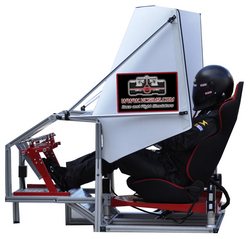 "VCSims is very excited to share this venue with our California dealer AutoVino. AutoVino has a very unique formula and offering for its clients
Henderson, NV (PRWEB) April 14, 2010
Who said drinking and driving was illegal? Not in the virtual world! Enjoy fine wine preciously store at AutoVino and enjoy real life experience of race car driving with the VCSims' simulators.
VCSims and AutoVino partner together to exhibit at the 36th annual Toyota Grand Prix of Long Beach Lifestyle and Alternative Energy Expo April 16th through April 18th, 2010. On site at Long Beach, California, at booth #'s1202 & 1203 attendees will have the chance to show off their driving skills on the VCSims RS1 Xtreme M3 racing simulator. Check out the Indy Lights Paddock after test driving an Indy car in the simulator.
Ron Larabie, President of VCSims will be on site with Buff Giurlani, owner of AutoVino and members of his team. "VCSims is very excited to share this venue with our California dealer AutoVino. AutoVino has a unique formula and offering for its clients. A state of the art facility where one can store fine wines and fine cars. They also have a VCSims racing simulator on their premise that clients can test drive", says Ron. "It's a very ingenious concept that they have going on. They really take good care of their clients. They have a great team. As for the Toyota Grand Prix event, it is huge and VCSims is thrilled to be a part of it. VCSims looks forward to demonstrating and show casing our patent 180 degree immersion screen technology of our product to the attendees and meeting up with some of our existing clients. These events are a lot of work but we are always excited to see how much fun people have driving our racing simulator," expresses Ron.
For more information on this event, as well as the latest offers and developments from VCSims, be sure to visit http://www.vcsims.com and subscribe to the quarterly newsletter.
About VCSims:
With a focus on producing multi platform simulator products, the VCSims team is dedicated to bringing consumers an ultra-realistic experience in computer simulation at affordable prices. From racing simulator to flight simulators, VCSims provides professionals and enthusiasts with the tools they need to train for real life situations or to simply enjoy a fantastic experience. VCSims has offices in Nevada, Florida, and Canada. Visit them at http://www.vcsims.com for more information on their simulator solutions.
###