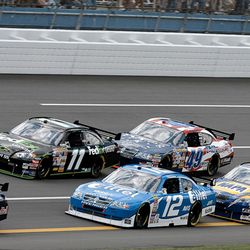 NASCAR has been working hard for years to rein in the skyrocketing cost of competing in the Sprint Cup Series
Charlotte, N.C. (PRWEB) December 10, 2007
BAM Racing is pleased to announce the official launch of its revolutionary new Diamond Sponsorship™ Program. The program leverages an innovative small business initiative and high-tech, patent-pending systems exclusive to the company. Diamond Sponsors receive affordable space on the No. 49 racecar along with complimentary turnkey activation components that sponsors paying millions would envy.
The use of technologically advanced programming and patent-pending systems exclusive to the Diamond Sponsorship Program makes possible low-cost, season-long space on the racecar for a limited time introductory price of $4,995. The program comes complete with high-tech turnkey marketing components for those who secure their sponsor space by the end of the year.
The high-tech, turnkey marketing components allow Diamond Sponsors to seamlessly implement the program into their own existing marketing programs or easily create new marketing initiatives. Components include, but are not limited to:

a race Web site customized for each sponsor
a weekly, customized race newsletter for automatic e-mail distribution
a promotional video customized for each sponsor
a sponsor promotion pack that includes a royalty free image license
a comprehensive sweepstakes campaign customized for each sponsor
a chance to become a primary sponsor for one race in 2008
"NASCAR has been working hard for years to rein in the skyrocketing cost of competing in the Sprint Cup Series," said team owner Beth Ann Morgenthau. "At BAM Racing, we believe there is a way to compete with the bigger teams on the revenue generating front through a different source. The Diamond Sponsorship Program also enables us to offer other primary and associate sponsorships at a fraction of the cost, thus giving our sponsors more exposure for significantly less money than other teams require."
The chief architect of the new program, ARMER Holding (ARMER), found it necessary to "look outside the box" in addressing revenue generation in a sport addicted to high dollar sponsorships.
"The solution came through the marriage of high-tech programming with a creative small business initiative that throws open the door for smaller companies with limited advertising budgets to enter the sport," said Larry Erdos, CEO of ARMER Holding. "Not only does the Diamond Sponsorship Program make sponsorship affordable to small businesses nationwide, it provides each new Diamond Sponsor with complimentary turnkey sponsorship activation tools unique in the sport."
The high-tech portion of the program is undergirded by several patent-pending systems developed by the ARMER team and available exclusively to BAM Racing. To protect their valuable proprietary applications, ARMER Holding enlisted renowned Internet patent attorney Edmond DeFrank to prosecute the patents on these and other proprietary applications. Mr. DeFrank has more than 14 years of experience as both an engineer and attorney in the high technology sector working with clients like: Hewlett-Packard, IBM, Microsoft, Motorola, AT&T, NASA, UCLA, Raytheon and other prestigious companies.
"After studying the various unique and proprietary business models and system applications developed by ARMER, I felt they had indeed created numerous valuable patentable inventions," stated Mr. DeFrank. "With regard to the applications being utilized exclusively by BAM Racing in their new sponsorship program, I believe these particular proprietary applications have the potential to not only revolutionize sponsorships in NASCAR but in other professional sports as well."
The introductory price of $4,995 is discounted for a limited time from the regular price of $10,080 and is subject to change without notice. Even at regular price, sponsors invest just $280 per race for a sponsor space on a NASCAR Sprint Cup Series car. Similar, more traditional sponsor spaces in the sport currently cost thousands per race. More details about the new Diamond Sponsorship Program can be found at http://www.49sponsor.com. Interested parties can request access to the introductory offer if still available at http://www.BAMRacing.com.
"We understand that the reason sponsors leverage NASCAR events is to increase their competitive advantage in their marketplace," commented Mr. Erdos. "That's why we developed a comprehensive turnkey off-track program to support each sponsor's space on the racecar. That combination, combined with the small business initiative that is near and dear to the Morgenthaus, makes the Diamond Sponsorship Program truly unique in NASCAR."
About BAM Racing
BAM Racing was formed by Beth Ann and Tony Morgenthau in 2001 and enters its seventh season in NASCAR Sprint Cup Racing. Beth Ann Morgenthau, whose initials make up the name BAM Racing, continues to be the only hands-on female owner in motorsports to have started a team without family connections. The Morgenthaus are investment bankers from Coral Gables, Fla., who specialize in positioning companies to reach their maximum potential. Their business acumen gives them a distinct advantage when it comes to providing maximum exposure and results for their sponsors. For more information, visit http://www.BAMRacing.com.
About ARMER Holding, LLC
ARMER Holding is the parent company of ZoneLoans.com LLC, OBOVO.com LLC, HealthLife.com LLC, and ExistSports.com LLC, all of which make up ARMER's 2007-2008 Phase One property releases. ARMER Holding combines cutting-edge, high-tech development capabilities with decades of business and marketing expertise to design, develop, and deploy a network of high-end Internet properties and numerous patent-pending systems. Please visit http://www.ARMERHolding.com for more information.
Contact:
Melanie Hamilton
[email protected]
(704) 947-9696
# # #