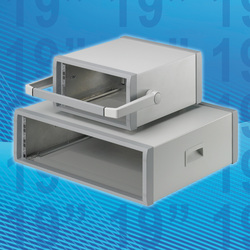 In an increasingly mobile world, INSTRUMET will help designers to create the next generation of portable 19" electronics.
(Vocus) July 9, 2010
METcase has added the all new INSTRUMET 19" enclosures to its wide range of rack mount enclosures.
These stylish, versatile and lightweight portable electronics enclosures can be customized with extra fixings, mounting points, ventilation, chassis trays and runners.
This new generation of cases has been designed to match METcase's existing ranges of VERSAMET, METTEC and UNIMET 19" rack mount enclosures.
INSTRUMET conforms to the DIN (41494) and IEC (297-1) standards for full and half width 19" equipment and will accept standard 3U subracks and chassis assemblies.
Typical applications include test and measurement equipment, networking and communications devices, industrial computers, sound and studio systems, laboratory instruments, medical equipment and industrial control systems.
INSTRUMET 19" enclosures are available in three standard sizes (custom depths are also available on request):

3U x 10.5" x 13.8"
3U x 19" x 13.8"
3U x 19" x 17.7"
They have a clean and modern appearance with no visible fixing screws on the case panels. All the fixings are hidden on the underside of the case.
Every INSTRUMET 19" enclosure is manufactured in aluminum, giving it a significant weight advantage over traditional steel-based 19" cases on the market.
Each case consists of two die cast front bezels, a top panel, a base panel and a removable rear panel.
Base and rear panels include ventilation slots for cooling. On demand, additional cooling slots can be provided, along with mounting points and fixings for individual fans and fan trays. All models feature two internal support rails to ensure easy installation of heavier equipment.
All 19" case parts are painted in a modern color combination of window gray RAL 7040 (bezel) and light gray RAL 7035 (top, base and rear panel). The enclosures can also be painted in special colors to suit customer specifications.
The front bezel features standard caged nut mounting points for fitting the 19" subracks, chassis or accessory 1U, 2U or 3U front panels.
Mounting points are inset in the bezels to allow the equipment to be recessed – protecting the controls from accidental operation.
The 19" enclosures are supplied fully assembled and include four molded non-slip feet, with tilt legs for canting the enclosure at a convenient viewing angle. The case body, base panel and rear panel are provided with three M4 x 10mm earth studs for electrical continuity.
METcase also offers a full customizing service on these enclosures with machining, silk-screen printing and much more, providing a fully finished housing ready for the electronic components.
INSTRUMET is an important addition to the METcase range of 19" rack mount enclosures:

METcase is represented in the USA by OKW Enclosures, Inc. Vice President, Sales, Sean Bailey said: "In an increasingly mobile world, INSTRUMET will help designers to create the next generation of portable 19'' electronics."
Features, benefits and specifications of the INSTRUMET 19" aluminum enclosures for portable electronics include:

Stylish, modern, robust but lightweight 19" enclosures
Conform to DIN 41494 and IEC 297-1
Designed to accept standard 3U x 19" subracks, chassis and front panels
Two versions, three sizes
Standard models with ABS side handles
Portable models with tilt/swivel aluminum carry handle bars (bail arms)
Supplied fully assembled and ready to use
Internal subrack/chassis support rails
Removable rear panel included
Ventilation holes in base and rear panels
Three M4 x 10mm earth studs provided inside
Molded ABS non-slip tilt feet included
Anodized 10.5"/19" front panels available as accessories
Protection class
More information on these enclosures can be found on the METcase website at http://www.metcaseusa.com or contact Sean Bailey, Tel: 800-965-9872.
Notes for Editors
METcase specializes in the design and manufacture of high quality aluminum enclosures for the electronics industry. The METcase range has been designed to allow for modifications to be carried out with ease.
Special sizes and versions of the enclosures can be produced in batch quantities from as little as 10 units. This flexibility provides design engineers with an exceptional range of options for developing new products and variations.
METcase is represented in the USA by OKW Enclosures, Inc of Bridgeville, PA.
OKW Enclosures, Inc
3000 Old Pond Road
Bridgeville, PA 15017
Phone: 412 220 9244
Fax: 412 220 9247
###