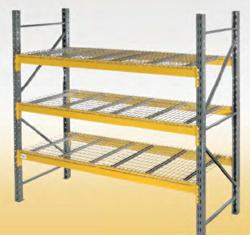 Racking Is Very Important For Efficient Storage
San Francisco,CA (PRWEB) January 11, 2013
A Plus Warehouse is now offering the Racking Round Up Promotion.
Warehouses and store rooms need racking, and racking is a popular line at A Plus Warehouse. Many customers spend time with loading dock equipment and forklifts, but neglect racking in warehouse design. The racking round up promotion is in place to inform customers about the great range of racking available at A Plus Warehouse.
According to Ed Stairman, "Racking is very important for efficient storage in warehouses. A Plus Warehouse has a great range of racking for sale". When Mr. Stairman states that a great range of racking is available, he means that A Plus Warehouse provides racking for most uses. Here is a partial list of the types of racking available through A Plus Warehouse:
(1) Pallet Racks – Pallet racks are used when storing bulk loads. Pallet racks are intended for use with forklifts. A Plus Warehouse ships most pallet racks in 24 hours. Specialties include Wireway Husky's Lynx Rack and Invincible racking
(2) Bulk Racks – Bulk racks can be confused with pallet racks as they look similar. Bulk racks are intended for hand loading. Some bulk rack lines include Durham, Penco, Lyons, and Scotland Rack. Customers should remember to order rolling ladders for higher shelf access when ordering bulk racks
(3) Rivet Racks – Racking that fits together with riveted components. The only tool required to install a rivet rack is a simple rubber mallet.
(4) Structural Pallet Rack – Extra heavy duty industrial rack for the most demanding tasks. A Plus Warehouse shows structural rack with pricing. Industry standard is for customers to request quotations. A Plus Warehouse makes it more convenient by offering the most popular structural components as a standard. Customers are encouraged to request special sizes if they are required.
(5) Can Racks – Industrial food service operations need ready access to many food cans. A can rack provides convenient storage and access. Customers that order can racks typically need stainless steel equipment as well. A Plus Warehouse provides stainless steel conveyors and stainless steel cabinets as well.
(6) Drum Racks – Drum racks have nothing to do with musical instruments when dealing with A Plus Warehouse. Metal chemical drums can be stored safely and conveniently on racking customized with drum cradles. Meco and SPG both manufacture excellent Drum Racks
Having been in business since 1996 , A Plus Warehouse has quite a bit of experience with racking , and the sales people are ready to help with customer requirements. A Plus Warehouse makes ordering pallet racking easier by offering pre-configured units with or without wire decks. Pre-configured pallet racks are available not only in tear drop style , but also in Lynx style. Lynx is inspired by the quality Penco Pallet Rack line. Lynx uprights can be used with an existing Penco system , but A Plus Warehouse suggests keeping with one manufacturer per installation. Penco racks are a fine product just as Wireway Husky's Lynx Rack.
A Plus Warehouse is a nationwide materials handling dealer specializing in racking needs. Feel free to call A Plus Warehouse at 800-209-8798