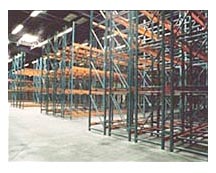 Our Inventory Is The Key to Amazing Pallet Racking Sales
Boston,MA (PRWEB) April 06, 2012
Racking can be difficult to understand and order. A Plus Warehouse is now running a racking promotion to simplify the entire process. Of course racking is an integral part of any materials handling system, and A Plus Warehouse provides most all the types of racking available. The promotion is fairly simple. Initial consultation on a customer's racking requirement will be free of charge. Any quotation provided through the promotion will be a no obligation arrangement. Customers are encouraged to take advantage of A Plus Warehouse's expertise in warehouse racking.
The entire gambit of racking is covered. From Pallet Racks to Bulk Racks, A Plus Warehouse has USA covered.
The king of all racking is pallet rack, and A Plus Warehouse has a pallet racking focus. According to Ed Stairman, President of A Plus Warehouse " Our Inventory Position is the Key to Amazing Pallet Racking Sales". Mr. Stairman's point is that customers need equipment now, and not soon. By offering Racking from stock , A Plus Warehouse makes the buying decision much simpler. The pallet racking that A Plus Warehouse stocks includes tear drop racking by Wireway Husky and specialized pallet racks by Penco Products. There will be times that capacity is the driving issue for a pallet racking order , and in those cases , A Plus Warehouse has a great solution. Structural racking is the most durable industrial rack on the market, and A Plus Warehouse is one of the very few dealers that shows structural pallet rack online with pricing. One could argue that A Plus Warehouse sets the market price for structural pallet racks due to the lack of competition. Structural rack is offered as a service to A Plus Warehouse customers. The unit demand for structural isn't even 10% of roll formed racking.
The promotion also covers lighter duty racking such as bulk racks , warehouse racks, and general storage racks as well. The big difference between these racks and the ones already mentioned is capacity. Warehouse racks are typically hand loaded with industrial racking tends to be loaded with forklift trucks. A Plus Warehouse distributes warehouse racking by Tennsco, Scotland Rack, Parent Metal, Pucel, Republic, Edsal and others as well! Whatever the racking requirement , ask A Plus Warehouse for help , and the solution will be at hand.
A few words on A Plus Warehouse:
A Plus Warehouse is a nationwide materials handling dealer specializing in racking, but offering lockers, shelving, carts, storage cabinets and conveyors as well. Call A Plus Warehouse at 800-209-8798 for personalized help.