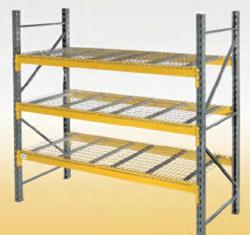 Our Warehouse Racks are the best!
Amherst, Massachusetts (PRWEB) June 23, 2013
The 4th of July is quickly approaching, and what better way to celebrate than a 4% discount on Warehouse Racks at A Plus Warehouse. This discount will be in affect July of 2013. Customers love the company's Warehouse Racks and so will future customers. With so many options at A Plus Warehouse for Warehouse Racks, what customers wouldn't love it? Ed Stairman, president of A Plus Warehouse, hopes that this discount will encourage customers to purchase warehouse racks. According to Ed Stairman, "Our warehouse racks are the best! This 4th of July discount makes it even better."
If it is Pallet Racks a customer is looking for, A Plus Warehouse is the right place. A Plus Warehouse Pallets Racks are used in many factories across the nation. Buying Pallet Racks at A Plus Warehouse is also an extremely easy process. The company also offers pallet racks that are pre-configured. This saves the customer much time. The company sells many types of Pallet Racks including Lynx Pallet Rack, Pre-Configured Wireway Husky Lynx Racks, Pallet Rack ( components only), Pallet Rack( complete with wire decking), Industrial Pallet Racks, Pallet Rack Guard for Tear Drop Pallet Racks, Penco Pallet Racks, Heavy Duty Pallet Rack, Pallet Rack with Wire Decking and Rack Guard, Heavy Duty Guard Rails, Rack Column Protectors, and Stackable Guard Rails.
Amazing Cantilever Racks are available here at A Plus Warehouse. Cantilever Racks are used to organize. They are great to organize warehouses, lumber yards, and manufacturing facilities. Without Cantilever Racks, companies may bulk items like flake board, dry wall, and aluminum sheets in piles on the floor. That is probably not the most organized way. This leaves warehouse personnel to constantly sort unrelated heavy and bulky items. This can be a pain. With a Cantilever Rack, one will not have this problem anymore. Each type of product is separated by size and commodity.
An interesting product sold at A Plus Warehouse is the Cable Reel Rack. This is ideal for storing bulky cable reels. It also has a massive 10,000 pound capacity per frame with a bracket capacity of 2,000 pounds. It should be noted that A Plus Warehouse's Cable Reel Rack does not include axle brackets or rods.
With so many Warehouse racks in stock, it is no wonder A Plus Warehouse is offering a 4 % discount for July. A Plus Warehouse wishes all of their customers a safe and happy 4th of July.
A Plus Warehouse is the operator of http://www.apluswhs.com and distributes materials handling and storage equipment nationwide and throughout Canada. The sales staff at A Plus Warehouse is available at 800-209-8798. A Plus Warehouse has been in constant operation since 1996.