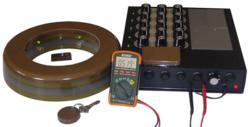 Between the precision frequency metering and the increased power output the RAD-5 is a device of elite status
Dallas,TX (PRWEB) May 09, 2012
The newly redesigned RAD-5 radionic psychotronics device is now available from RadionicsBox. This long awaited update to the RAD series and successor to the ATG-5 sports several enhancements designed to make manifestation more effective and precise. The two biggest enhancements are the addition of precision frequency metering and a newly redesigned orgone generator that increases output by over 50% compared to previous models. Product specialist, Mike Devino says, "Between the precision frequency metering and the increased power output the RAD-5 is a device of elite status. I am using one myself and it is a significant upgrade to the previous models."
The RAD-5 has 5 generators each controlled by an on/off switch and three frequency control knobs. The frequency control knobs also used to set the radionics rate. The combined settings of the three control knobs set the frequency for each generator. This allows for operation in 5 fields of influence at once or if the user prefers the 5 generators can be combined to power one operation with full orgone output directed to the single operation.
The addition of a frequency meter port allows for exact frequency monitoring of all generators. By connecting the supplied frequency meter to the ports on the side of the device each generator's frequency can be monitored. Switching generators for monitoring is accomplished by using a rotary knob next to the frequency monitoring ports. This visual feedback allows for precise frequency settings that were previously impossible to accomplish. In addition, the generator ring is constructed using HSCTI's latest super orgonite material.
The RAD-5 is available for immediate delivery as of May 9, 2012 though RadionicsBox.com.