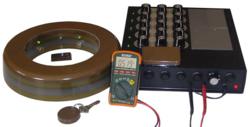 Dallas, TX (PRWEB) October 15, 2012
RadionicsBox announces new RAD-5 orgone radionics psychotronic device made with super orgonite for large-scale orgone generation. The new RAD-5 is a professional level radionics machine with five orgone generators in a donut ring configuration. Each of the five frequency controlled chi generators has a silver output pipe that points into the center of the ring. The ring connects to the control box using a specialized cable that powers the generators inside the ring and provides the frequency information.
"The new RAD-5 radionics machine and psychotronics box is extremely powerful. When you run all five generators it is like you have five virtual rings stacked upon each other. This represents a massive life force output for the orgone generator. Thanks to the super orgonite that it is constructed from it is even more powerful than earlier models. In addition each of the five generator can be set to specific frequencies using the supplied frequency meter.", says Mike Devino, radionics master and radionics software user.
It is important to note that each generator uses the entire ring as its orgonite base as long as each generator is running at a different frequency. This is analogous to an audio speaker that reproduces a variety of frequencies from a single speaker. Each of the five generators can be set to a specific output frequency by adjusting the three knobs on the control box that correspond to the specific generator. When the supplied frequency meter is connected to the control box and the generator selector switch is turned to the proper generator the output frequency can be monitored on the display of the frequency meter. There are three dedicated tuning knobs for each of the five orgone generators on top of the control box. The first knob is for coarse tuning and when it is used the reading on the frequency meter will change rapidly and in large steps. The second knob is for medium tuning and should be used after the coarse tuning knob to get closer to the desired frequency for the chi generator. Finally the fine tuning knob moves the frequency in very small steps allowing for more precise tuning of the final output. When used together very specific frequencies can be achieved down to one hundredth of a Hertz. A common use of this procedure would be to dial in the Schumann Resonance frequency of 7.83Hz, or the frequency of the ionosphere.
The RAD-5 radionics machine and psychotronic instrument is now available at RadionicsBox. For more information please visit radionicsbox.com