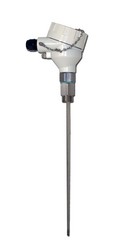 By improving existing technology, Tracer 1000 elevates the performance, safety, value and functionality of a process measurement.
Cleveland, OH (PRWEB) November 10, 2010
Flow Line Options Corp. (FLO-Corp), a leading manufacturer and national supplier of measurement and control instrumentation, today announced the launch of Tracer 1000™. This innovative level transmitter utilizes guided radar technology to achieve high accuracy monitoring in most applications, such as slurries, coating liquids, light oils, foaming liquids and even solids with dusty environments. Tracer 1000 offers a complete solution for virtually any level application including extreme temperatures and demanding environments.
"With the launch of Tracer 1000, Flow Line Options has the ability to provide a superior level solution to most applications," said Dave Grumney, President & CEO of Flow Line Options Corp. "Tracer 1000 is a robust radar level transmitter with outstanding features that fits our cost leading portfolio. By improving existing technology, Tracer 1000 elevates the performance, safety, value and functionality of a process measurement."
Infused with revolutionary TDR (Time Domain Reflectometry) technology: low-energy, high-frequency electromagnetic impulses, generated by the sensor's circuitry, are propagated along the probe which is immersed in the liquid to be measured. When these impulses hit the surface of the liquid, part of the impulse energy is reflected back up the probe to the circuitry which then calculates the fluid level from the time difference between the impulses sent and the impulses reflected. The 4-wire sensor can output the analyzed level as a continuous measurement reading through its analog output, or it can convert the values into freely positionable switching output signals.
The Tracer 1000 features a simple, yet durable ATEX approved design with integrated HART® Communication Protocol to allow simple configuration of factory settings. This radar device is capable of handling extreme temperatures up to 480F (249C) and measuring ranges up to 65' (20m) in a variety of process applications.
The Tracer 1000 has very few installation restrictions. Due to its 1" beam angle, the device can be mounted in small tanks, tall and narrow nozzles while providing precise measurement. Difficult tank geometries or close to interfering structures will not hinder performance since the Tracer 1000 has a 1.5" dead band. The new guided radar level transmitter is suitable for all types of processing and storage applications and performs exceptionally in liquids with low dielectric constant (i.e. low reflectivity) such as oils and hydrocarbons.
With a fully modular probe design that can be customized to meet various process conditions or specific installation requirements, the new Tracer 1000 is a reliable, cost-effective solution that provides continuous level measurement and point level detection - independent of changing process conditions.
Typical Tracer 1000 Applications:

Small Tanks
Vacuum Tanks
Stilling Wells
Bypass Pipes
Sticky/Coating Media
Acidic Solutions
Foaming Media
Extreme Temperatures (-328F to 480F)
Tracer 1000 Benefits Include:

Fully Modular Probe Design
ATEX Approved Design
Wide Measurement Range (Up to 780in)
HART® Communication Protocol
About Flow Line Options
Flow Line Options Corp. (FLO-Corp) is a leading manufacturer and supplier of advanced flow, level, and display instrumentation. With decades of experience, FLO-Corp specializes in providing complete, customized measurement solutions to support even the most difficult applications. The company was founded in 1988 and is headquartered in Northeast Ohio. For more information, please call 877.356.5463 or visit Flow Line Options' website at http://www.flowlineoptions.com
###