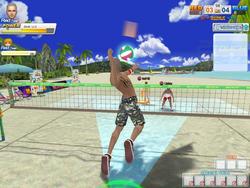 When I first saw the quality and potential for these games, I knew we had to bring them to the English speaking world
Portsmouth, NH (PRWEB) March 5, 2010
North American gamers will soon be playing unique and innovative games from the studios of leading independent game developer Radiance Digital Entertainment. Excalibur Online will begin closed beta testing in March, with an official launch scheduled for April. Beach Volleyball Online will follow one month later. "When I first saw the quality and potential for these games, I knew we had to bring them to the English speaking world" says Jonathan Seidenfeld, CEO of Omniverse Games, "Both games fill niches sorely underrepresented in today's market."
"We are pleased with the support and dedication Omniverse Games has shown during the localization phase of development, and we are looking forward to seeing these games make a splash in North America" says Montgomery Singman, CEO of Radiance Digital Entertainment. While each of the games appeals to a different demographic, they both take advantage of the current demand for games representing new genres in the fast growing free-to-play online gaming space.
Excalibur Online is a browser based free-to-play massively multiplayer online real time strategy (MMORTS) game. Set in post Roman Britain in the years just preceding the rise of King Arthur and Camelot, players in Excalibur Online must collect resources and quickly develop new technology in order to build up their cities, maintain powerful armies, and try to unify Britain under their own rule. Of course thousands of other players have the same goal, so it's a never ending battle for resources and development. Players can enter into (and break) alliances with other players, get help from legendary heroes, and use magical special items to achieve their objectives. More information including screenshots and Closed Beta sign-ups can be found on the official Excalibur Online website as well as on our official Facebook Fan Page.
Beach Volleyball Online is a free-to-play Sports MMO. Players are immersed in an exquisite 3D world set in a lush beach side environment. The game incorporates the intense tactics and competition of real beach volleyball into a larger virtual world where players and their avatars can explore, socialize, and make new friends. BVO is one of the first true sports MMOs in that it features a large, stable persistent world, character development, exploration, and can be played however the player chooses to enjoy the game. Much more information including screenshots, videos, closed beta signups, and an introduction to the BVO community can be found on the official BVO website and on our official Facebook Fan Page.
All Media and other enquiries about these titles should be directed to the Omniverse Games contact or through the Omniverse Games website.
About Omniverse Games
Omniverse Games is a publisher of unique high quality online games specializing in the free-to-play with microtransaction business model. With offices in both Shanghai and Portsmouth, NH in the United States, Omniverse bridges the gap between East and West, and brings superior digital entertainment from Asia into Western markets. For more information about any of our games please visit the Omniverse Games website or give us a call.
Omniverse Contact:
David Clarke
(603) 833-6805
About Radiance Digital Entertainment
Radiance Digital Entertainment is a leading independent developer and publisher of online games including GoGo Racer and Beach Volleyball Online, both of which are published in various territories around the world. More information about Radiance can be found on the Radiance Digital Entertainment website.
Radiance Contact:
Emily Ling
(+86) 21-5237-3677 Ext. 8662
# # #