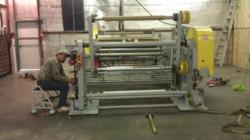 Arlington, TX (PRWEB) May 14, 2013
Innovative Insulation Inc., the country's largest radiant barrier manufacturer, known on the web as radiantbarrier.com, has increased its production capability 75 percent following the purchase of a modern, fully automated turret winder.
The turret winder is designed for continuous winding of small or large rolls of paper, film, textiles, fabrics and other materials. The automated splicing machine runs constantly and when it completes the cutting of one roll, it automatically flips and attaches another core. It is also able to accommodate widths up to 60 inches.
"Innovative Insulation is the only company that has a winder of this kind," according to Barry Williams, operations manager. "It's fully automated and able to cut rolls of radiant barrier without any web drift, which eliminates coning of rolls."
With the new turret winder, Innovative Insulation has been able to improve its ability to manufacture radiant barrier, which reflects radiant heat for insulation. Radiant barrier insulation is able to keep heat inside during winter and keep heat out during summer. Innovative Insulation increased its production capability in anticipation of increasing residential and commercial demand of its flagship radiant barrier products - Super R Plus and Super R Plus HD.
For more information, contact one of the customer service representatives at Innovative Insulation at 800-825-0123.
About the company:
Innovative Insulation has been manufacturing radiant barrier products for over 25 years and is the largest manufacturer of Made In America Radiant Barrier products. Over those 25 years years, the product line of Innovative Insulation was expanded to include several grades of reflective insulation, as well as reflective bubble foil insulation. The company's trademark product, Super R, has become synonymous with reflective insulation.
They want to help their customers develop a solid source of revenue from happy homeowners who want to have more comfortable living spaces while saving money on their utility costs. While the retro-fit market has massive potential, the new construction market is also responding to the necessity of the product as a more cost effective alternative to excessive mass insulation and spray insulation costs. For more information, please visit their website at http://www.radiantbarrierdmn.com.