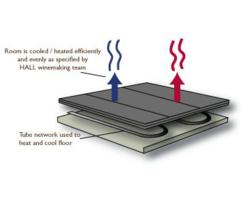 San Rafael, CA (Vocus/PRWEB) February 26, 2011
Bay Area radiant heating company Reid Heating & Energy, Inc. has completed an in-floor radiant heating and cooling system for prestigious Hall St. Helena Winery in Napa Valley. The energy efficient installation has allowed for Hall to receive LEED Gold Certification from the U.S. Green Building Council.
The theory behind Reid Heating & Energy's installation was to provide consistent temperatures, for heating and cooling of the state-of-the-art facility. The two production areas, the winery and the barrel cellar, require consistent temperatures as a crucial element for successful winemaking.
"Although we do hundreds of commercial in-floor radiant installations, very few involve cooling," says Bob Reid, owner of Reid Heating & Energy, Inc. "Hall St. Helena was unique for its unconventional 'cool' temperature, thick foundation and sheer size of the warehouse buildings."
The Hall St. Helena Winery's 20,000 square foot facility offered a perfect application for radiant cooling as well as heating. The 83,000 feet of PEX tubing installed in a 20" concrete slab takes a long time to heat and cool, but the increased mass is ideal for maintaining the desired temperature.
The energy efficient design allows for the winery to maintain the ideal 55-degree temperature. In addition to energy efficient radiant heating and cooling, the winery incorporated many other green features into its design, contributing to its LEED Gold Certification.
Solar provides more than 35% of the energy requirements for the facility and more than 10% of the materials used were recycled materials. Drought-tolerant landscaping and low-flow plumbing fixtures conserve water usage.
For more information about radiant or hydronic heating, call Reid Heating & Energy, Inc. at (415) 448-7990 or visit them on the web at http://www.reidheatingandenergy.com.
About Reid Heating & Energy Inc.
Reid Heating & Energy Inc. is a radiant and hydronic heating company that specializes in radiant heat, solar energy, and radiant floor heating. Reid Heating & Energy Inc. serves the San Francisco Bay Area.
Also a leader in the renewable energy field since 1980, Reid Heating & Energy, Inc. has extensive experience and a long-standing reputation for quality installations of Solar Domestic Hot Water, Solar Pool Heating and the recent surge in the popularity of Solar Electric - Photovoltaic Power.
# # #