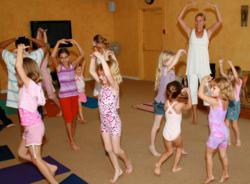 Clearwater, FL (PRWEB) September 27, 2011
The Radiant Child Yoga Program® (RCYP), one of the most comprehensive and enlightening children's yoga training programs, will be offering CEUs to teachers and therapists at its upcoming weekend training at Yoga Village of Clearwater.
Led by RCYP Facilitator Amy Pfaelzer, the weekend is a complete training and participants, which will include educators, therapists, parents and others who work with children, will be certified at the end of the weekend so they can begin teaching RCYP immediately. Training will include guidelines for sharing yoga with toddlers through teens, yoga for ADHD and Autism, and adapting yoga for a school setting. The course includes books, CDs, DVDs and a manual, all created by RCYP founder Shakta Kaur Khalsa.
Yoga Village of Clearwater offers hundreds of yoga classes every month in all styles of yoga. In addition, it is one of the top locations in the country for Kundalini and Hatha teacher trainings and workshops. Now in its fifth year of operation, Yoga Village is expanding its class offerings, teacher trainings, and its retail boutique.
###