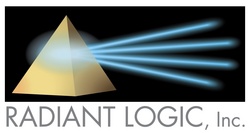 We are very happy to add the webMethods ESB to the list of certified ESBs we support
NOVATO, Calif. (PRWEB) June 3, 2008
"We are very happy to add the webMethods ESB to the list of certified ESBs we support," says Michel Prompt, Founder and CEO, Radiant Logic, Inc. "Many of our customers want to leverage their existing ESB infrastructure, which is key for their process integration. By supporting webMethods, RadiantOne is adding a new service to their solution - an Identity Integration layer based on virtualization and open standards."
An ESB is a critical component of a flexible and robust identity infrastructure. By providing guaranteed delivery of updates, ESBs are key to the notifications that are essential to managing the lifecycle of a flexible and robust Identity Service. Radiant Logic leverages these capabilities for its RadiantOne Identity Correlation and Synchronization Server (ICS) to guarantee real-time identity synchronization and information updates. Other ESB Java Messaging Services supported by RadiantOne include SunONE Message Queue, SonicMQ, IBM MQSeries, Oracle/BEA Web Logic, Tibco, and ActiveMQ.
About Radiant Logic, Inc.
Radiant Logic, Inc. is the market leading provider of virtual directory solutions for identity management and enterprise information integration. The RadiantOne Identity and Context Virtualization Platform is being deployed by global enterprises to provide unified, secure access to identity and contextual views built out of heterogeneous applications and data sources. RadiantOne is a key enabler for authentication, authorization, profile and personalization initiatives.
For more information, visit http://www.radiantlogic.com or download a 45-day free trial.