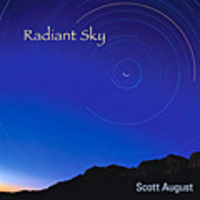 The idea with Radiant Sky was to evoke my favorite times of day -- dawn & twilight -- when there is a beautiful sort of pale radiance to the sky.
West Hollywood, CA (PRWEB) February 17, 2010
Cedar Mesa Music announces the release of Radiant Sky, the fifth album by multi-instrumental musician Scott August. Ethereal, celestial, and meditative are all words being used to praise the mystical soundscapes created by this award-winning artist for his latest album.
August is a nationally-acclaimed composer, producer, keyboardist and indigenous flute player know for his forays into Ambient and World Music. His music has been featured on the nationally-syndicated radio shows "Hearts of Space" and "Echoes" as well as receiving airplay on the digital networks Music Choice, Sirius XM Radio, and DirecTV. He has composed music and sound design for hundreds of films, commercials and video projects, for clients such as NASA, The Discovery Channel, Lexus, Chevrolet, HBO, Nabisco, and Minolta.
On Radiant Sky, ten new tracks feature an assortment of indigenous flutes (including Anasazi and Mojave), pianos, electric and acoustic guitars, and world instruments such as oud, charango, tabla, udu, kalimba, gamelan, zampoña, and darbuka. All of these elements are mixed with August's signature "textures" to generate the uniquely relaxing sound for which August is known.
August composes, performs and produces his all of music as a solo effort. According to the artist, "This album may be my most meditative to date. My favorite music is that which transports me, and I'd love to give back that experience to my listeners. The idea with Radiant Sky was to evoke my favorite times of day -- dawn & twilight --when there is a beautiful sort of pale radiance to the sky."
Indeed, the album's ninth track "A Pale Radiance" evokes the breathless glow of a golden sunset, while "Calling the Sun" hints at the first pale light of sunrise. August also weaves a celestial evening theme into the album with "River of Stars" and "Since the Stars Fell." Both titles are terms used by indigenous ancient cultures referring to both their beliefs about the significance of stars.
August explains, "I first learned about the term 'when the stars fell' from a book I found while traveling through Arizona; there was just something about the saying that struck me as poetic. And, while visiting Peru last summer, I learned that the Peruvians speak of 'the river of stars' in reference to the Urubamba River being reflected in the sky as The Milky Way. I just thought 'What a beautiful way of seeing the world.'"
Kitty Norris of Iridium Radio says "Radiant Sky is that treasure of thoroughly original music that doesn't come across my desk very often. Every cut is unique, each tells a story, sets a mood and transports the listener to exotic places most of us only dream of visiting. 'Santa Fe' makes me move and dance, 'Arc of Dreams' takes me on a journey to a serene faraway place filled with wonders. 'River of Stars' evokes the place itself - it comes alive in the music. 'A Pale Radiance' tells of a quiet conversation between the man and the piano. This is a diversity of instruments beautifully blended; the compositions flow so well they appear to be effortless - I call this the work of a master."
The album was recorded and produced at August's Sound Sanctuary studio in Los Angeles, with mastering by Jack Miller. KDM Promotions promotes the album to radio, while The B Company handles public relations. Cedar Mesa's music offerings are distributed to retail stores by Music Design, New Leaf Distributing, White Swan and Four Winds Trading Company. Radiant Sky is available at retail book and music stores, and online at music websites like Amazon, iTunes, CD Baby and CedarMesa.com.
Scott August is currently traveling, performing, and conducting radio interviews in support of the new album. Fans can visit August's official website to sign up for his newsletter containing exclusive information on upcoming performances and promotions, including free mp3 downloads several times a year.
Track List for Radiant Sky (59.5 minutes)
1. Calling the Sun (3:33)
2. New Horizons (6:25)
3. Arc of Dreams (6:41)
4. River of Stars (7:37)
5. Santa Fe (6:34)
6. Since the Stars Fell (4:11)
7. Rising from the Plateau (3:36)
8. Journey of Solace (6:52)
9. A Pale Radiance (8:09)
10. Searching Beyond (5:31)
Suggested Links:
Official Artist's site: http://www.cedarmesa.com
Radiant Sky on Amazon: http://www.amazon.com/Radiant-Sky-Scott-August/dp/B00330E4K6/ref=sr_1_2?ie=UTF8&s=music&qid=1266288927&sr=8-2
Scott August on Facebook: http://www.facebook.com/pages/Cedar-Mesa-Music/301761548479?v=wall&viewas=1010481523
###