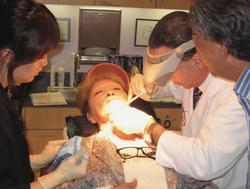 Radiesse is of the perfect consistency to mold however you wish once it is injected. It can be as precisely placed and shaped as the patient desires. The matrix structure encourages the interweaving of your own collagen strands to keep the product where it's placed and to provide a totally natural feel and appearance
Orange County, CA (PRWEB) July 23, 2008
Dermatologists recently were given the opportunity to attend a special Radiesse training and lecture given by Nissan Pilest, MD, Board Certified Dermatologist in Irvine, Ca. Dr. Pilest is a selected Medical Education Faculty member for Bioform Medical, makers of the long term multi-application dermal filler Radiesse.
"Radiesse is one of those 'once-in-a-while' products that make cosmetic physicians stand up and applaud," he shared. "As physicians, we often have a tough time balancing the needs of our patients with the cost per duration of effect of a filler product. The impact on a patient's pocket book or wallet can be fairly substantial when multiple syringes of product are necessary to produce the desired improvements. And frankly, this is almost always the case for any moderate-and-beyond fold or wrinkle correction - and most certainly when the applications are for augmentation. Since most dermal fillers have a limited endurance factor, this limited life span can have a detrimental effect on long-term affordability."
"Radiesse has two very important pluses that make it a desirable choice:"
1) The product itself has a duration that often approaches 2 years when adequate amounts are used in initial corrections. That alone makes it a 'bargain' demal filler.
2) The bio-stimulatory action actually creates new natural Collagen Growth, so even when the Radiesse product itself is gone, there is the prolonged effect of the natural collagen increase. This also means future treatments may require less product to maintain the desired improvements."
Dr. Pilest reviewed current cosmetic applications of Radiesse:
1. Moderate to deep nasolabial folds
2. Under eye hollows
3. Pre-jowl areas of the jawline
4. Marionette lines
5. Cheek augmentation
6. Chin augmentation
7. Generalized Facial Augmentation ("LiquidLift")
8. Nose reshaping - "Injection Rhinoplasty" or "Nonsurgical Nose Job"
9. Nasal bridge augmentation
10. Hand "lift" by plumping the back of the hand to minimize vein and tendon show
(Radiesse is also used for the treatment of Facial Lipoatrophy and Vocal Cord Insufficiency)
Dr. Pilest noted that Radiesse is NOT used in the lips or in superficial wrinkles. Injection depth requirements and viscosity make these two areas "off limits" for fillers other than hyaluronic acid gels, such as Juvederm or Restylane, or the various collagens.
"Radiesse is of the perfect consistency to mold however you wish once it is injected. It can be as precisely placed and shaped as the patient desires. The matrix structure encourages the interweaving of your own collagen strands to keep the product where it's placed and to provide a totally natural feel and appearance," Dr. Pilest told his physician attendees. "Because Radiesse has such malleable qualities, the facial profile lift is incredible. If you are familiar with what a cheek implant can do to lift the tissues below it, then you can understand how the effects go far beyond the augmentation itself. Being able to immediately create or restore balanced 3-dimensional contours with an injectable is extremely satisfying -- both for patients and for doctors."
Dr. Pilest's training included step by step patient demonstrations and explanations of his intraoral injection techniques which eliminate all or most of the bruising that is associated with treatment for certain corrections. The density of the Radiesse material requires the use of a 26 gauge needle, which almost always "guarantees" some residual bruising. The intraoral technique allows injection from inside the mouth, with dental-type anesthesia, so the external bruising and treatment discomfort is eliminated.
As a near 30-year injection specialist, Dr. Pilest has treated tens of thousands of patients. In addition to his role as Medical Education Faculty for Bioform, he is a national training physician for Allergan's Juvederm products and Botox. He is an Assistant Dermatology Professor for the University of Calfornia Irvine, speaker for laser and light systems and a peer-recognized leader in evaluating and implementing emerging dermatology technologies. Dr. Pilest is also a featured Dermatology Beauty Expert with NewBeauty Magazine.
Dr. Pilest is the founding Medical Director of Total Dermatology, one of the most comprehensive Laser and Dermatology Centers in Southern California. His private practice is open to all patients seeking cosmetic enhancement and medical dermatology treatment.
Total Dermatology is located on Sand Canyon Avenue near the Specturm in Irvine. The website http://totaldermatology.com has extensive educational information which is updated frequently. The practice offers a free monthly Dermatology E-Newsletter. Cosmetic Consultations with Dr. Pilest are complimentary and may be obtained by calling (949) 727-3800 or (877) DrPilest.
Physicians who wish to attend a Radiesse Training Session with Dr. Pilest should contact a Bioform Medical representative.
###