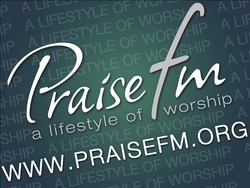 I am excited to partner with Praise FM because they are a leader in redefining online christian radio
Minneapolis, MN (PRWEB) November 8, 2010
There is a new format for Christian radio which is being pioneered by Praise FM, a Christian radio station headquartered out of Minnesota. Currently they have four stations and four translators in the Midwest US, online listener-ship from 96 nations and 42 language groups of the world as well as radio programming in Africa, and partnerships being established to broadcast across Europe, Canada and the Cayman Islands. The format focuses on the listeners wants by broadcasting in half hour segments, uninterrupted by commercials, focused on bringing its listeners through a contemporary worship experience, similar to what one would find in a local church service.
"Yesterday, I found myself with arms raised towards heaven and tears streaming down my face as I listened. This is beginning to happen quite frequently as I listen to the praise music that pours from the airwaves. I am closer to God than ever before in my life, but have not had the daily opportunity to really engage in praise in this manner before now, and I think it's what's causing a fresh new awakening in people's spirits!" -Stephanie
In response to the growing demand for this new format, Praise FM has launched a new website which leverages online streaming radio, iPhone Apps and social media to reach its growing online community. Praise FM partnered with Sheepish Design, a church website design company focused on redesigning the online church. Sheepish Design founder Luke Frederick commented, "Not only do church websites need to focus on engaging their communities; radio stations need to as well. I am excited to partner with Praise FM because they are a leader in redefining online Christian radio and how it connects to its listening community."
Praise FM is one of the leaders in redefining the paradigm of Christian radio. "An increasing number of believers are listening online - recently tuning in from 96 nations and 42 language groups of the world. We are seeing that worship diminishes denominational, cultural and even language barriers." -David McIver, Executive Director of Praise FM.
###