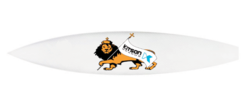 Olympia, WA (PRWEB) July 13, 2012
Beginning Monday, July 16, Kitson Boards will began their four week Touring SUP Giveaway promotion. The promo, which also will be featured on Radio Chum, the 24/7 Paddle Board Radio Station, will give Kitson Board fans and new followers the chance to win one of their ultra durable carbon fiber paddle boards.
Stand Up Paddle boards from Kitson provide customers with boards that are large, wide and buoyant, making them ideal for balancing. These SUPs are designed to allow the surfer the ability to paddle while standing up in all types of water conditions. Paddle Boarding is a fast growing sport. Each board also comes with the option to add customize graphics in order to create the most unique and personalized paddle board for their customers.
The giveaway entries will be taken via the Kitson Boards Facebook and Twitter pages, fans interested in having their name entered into the drawing can visit the social media pages, Kitson Boards website or Radio Chum for more information.
Founded by Michael and Denise Kitson, Kitson Boards, LLC headquarters is located in Olympia, WA. Kitson Boards are all crafted out of the ultra durable and long lasting carbon fiber material. All production of products as well as the people behind the brand are based in North America. Kitson Boards prides itself on outstanding customer service and only the finest in recreational boarding and accessories. Free shipping is available on all surfboards, paddle boards, body boards and accessories throughout the continental USA.