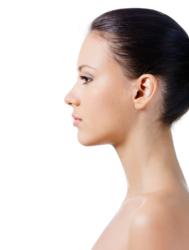 The treatment is lovely to both provide and to receive. During treatment all that you feel is deep heat that typically relaxes you and makes you fall asleep, while at the same time it works it's magic tightening, lifting and slimming the facial contours
London, UK (PRWEB UK) 6 March 2012
LipoTherapeia, the only beauty practice in London exclusively dedicated to fat removal and skin toning, now offers Meso-CRF Face, the simultaneous combination of low-frequency monopolar radiofrequency and 15-active ingredient electro-mesotherapy. Low frequency monopolar radiofrequency is widely acknowledged as the most effective skin tightening and localised facial fat removal technology available today. Needle-free mesotherapy is also considered as one of the most effective anti-ageing techniques, especially if a high concentration of several natural active ingredients are used.
In contrast to injection-based mesotherapy, ablative lasers and other types of radiofrequency which do not work on facial fat and often have undesirable side-effects such as bruising, redness, irritation or skin burns, Meso-CRF Face, is a non-surgical, non-intrusive, pain-free and pleasant procedure (clients are known to fall asleep during treatment) and allows women to resume their daily activities as normal, even sunbathing, immediately after treatment. This lack of downtime makes Meso-CRF Face an ideal treatment to have before a party, wedding or other event when a woman needs to look her best. This is in contrast to laser treatment and injection mesotherapy which require at least a couple of days of downtime before such social occasions are undertaken.
Furthermore, the 15+ active ingredients used for the mesotherapy component of Meso-CRF Face are all natural and very specific to fat reduction and skin firming. Until recently virtual mesotherapy and radiofrequency were only available as stand-alone therapies, meaning that women who would like to combine two of the most effective anti-ageing/fat reducing facial treatments had to receive these procedures separately, with the consequent higher cost and time wasting. With Meso-CRF Face, a course of 12 sessions is equivalent to 24 stand-alone electro-mesotherapy and radiofrequency procedures, offering Londoners maximum results at minimum cost.
Meso-CRF is said to be effective in reducing fat on the under-chin, jowl and cheek areas. Laugh lines, crow's feet, under-eye bags, forehead wrinkles and saggy facial skin also benefit from the tightening/lifting effects of the treatment. The décolleté and neck areas are also said to respond well to this innovative treatment, with wrinkle reduction and skin tightening being the main benefits. A pleasant side effect of the treatment is a considerable degree or acne reduction due to activity decrease of the facial sebum-producing glands.
Results are instant as well as long lasting (a course of 6 or more sessions is recommended for long-lasting results and for fat removal on the chin, cheeks and jowl areas). The face looks and feels relaxed, rejuvenated and more youthful immediately after treatment, without the side-effects of lasers or injections.
"The treatment is lovely to both provide and to receive. During treatment all that you feel is deep heat that typically relaxes you and makes you fall asleep, while at the same time it works it's magic tightening, lifting, slimming and revitalising the skin. Clients are instantly happy!", skin firming and fat removal expert, Georgios Tzenichristos, describes and adds: "In essence, Meso-CRF Face feels and works like a multi-vitamin facial but with the added benefits of low-frequency monopolar radiofrequency".
Georgios has 13 years of experience in fat reduction and skin tightening and 10 years of experience in cream formulation, and has researched the science of radiofrequency and mesotherapy for several months before deciding on offering Meso-CRF Face. For maximum results Georgios creates his own mesotherapy cream and gels for the treatment. "Most creams and gels on the market contain a very low amount and very limited number of active ingredients. By creating my own product I am assured of the quality and concentration of our formulations and feel confident that we offer our clients the best mesotherapy product available today", Georgios enthuses and adds: "We certainly do not promise one-day miracles because miracles do not exist, but we are pretty confident that we offer one of the most effective, safe and pleasant facial procedures available in London".
Meso-CRF Face is currently exclusively available from LipoTherapeia, an aesthetic practice based in Knightsbridge, London solely dedicated to localised fat removal and skin firming, "and nothing else!", as Georgios proudly declares. Georgios and his assistant currently offer more than 100 Meso-CRF sessions every month, a volume of treatments that goes a long way towards reassuring women about the quality of treatment they receive and their overall levels of experience and expertise.
How the treatment works:

Radiofrequency is well known for it's lipolytic/adipolytic effects on adipose cells (fat release and fat breakdown, in simple terms).
Radiofrequency is also well known for it's stimulating properties on collagen cells (also known as fibroblasts), for it's existing collagen contracting effects (which consequently tightens and "lifts" the skin) and for it's circulation-enhancing and skin-rejuvenating results (RF-induced heat increases circulation, leading to the removal of released fat and toxins and to the supply of tissues with nutrients and oxygen)

Electro-mesotherapy, depending on the active ingredients used, can also aid in these processes. It is now well known that caffeine, retinol, pentapeptide and other peptides, actively help reduce fat, tighten the skin and boost circulation.
The mesotherapy cream/gel used for Meso-CRF comprises more than 15 active ingredients contained in a luxurious base of cold-pressed jojoba oil, coconut butter and shea butter. Ingredients include, among others: five different molecular weights of Hyaluronic Acid (which hydrate and heal the skin at five different depths); fat-soluble and water-soluble ascorbic acid (vitamin C is essential for collagen production); Retinol (Vitamin A is a well-known anti-ageing, fat-reducing and acne-reducing factor); three skin peptides (known to boost skin elasticity and firmness); caffeine (well known for it's drainage and fat-reducing effects); L-Carnitine (used for fat removal in several slimming creams); Panthenol & Tocopherol (Vitamin E and Vitamin B5 are well-known anti-ageing nutrients); Red Vine Leaf Extract and Horse Chestnut Extract (both herbs known for their microcirculation-enhancing qualities).
-----------------------------
Meso-CRF Face is currently only available at LipoTherapeia, 202 Walton Street, Knightsbridge/South Kensington, London SW3 2JL. For more information and bookings you can visit lipotherapeia.com, call 020 7754 0309 or email the clinic by filling the form available at lipotherapeia.com/talk-to-the-expert.
Meso-CRF Face can be used for the treatment of décolleté, neck, double chin, jowl, cheeks, laugh lines, crow's feet, under eyes and forehead.
Most women experience the first long-term results with Meso-CRF Face in 3-4 sessions, with the best results achieved in 6-12 sessions, according to each individual's needs. 

LipoTherapeia never makes specific guarantees about specific results after specific number of sessions, as those not only depend on the effectiveness of the technology used but also on factors beyond our control, such as the client's diet; exercise, smoking and drinking habits; genetics; overall health; the severity of skin looseness, wrinkling and fat accumulation; and expectations. However, we do offer probably the most comprehensive and powerful facial fat removal and skin firming technology available in London, offering the best chance of reducing facial fat and loose skin with a non-intrusive method.
###