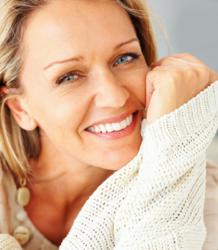 you can actually see and touch the difference halfway through the treatment
London, UK (PRWEB) December 21, 2012
New face treatment developed at LipoTherapeia, the London-based skin-firming clinic, combines deep-tissue radiofrequency with Vitamin C, two of the most effective ways to boost skin firmness on the face.
The aptly named "Vitamin C Radiofrequency Facial" combines the collagen-boosting activities of radiofrequency with those of vitamin C (ascorbic acid), for a synergistic skin tightening and lifting effect.
Vitamin C's most important functions in the body are facilitating collagen production and antioxidant activity - crucial for keeping the skin firm and protecting it from ageing and inflammation.
On the other hand, LipoTherapeia's deep-tissue radiofrequency treatment boosts firmness by stimulating collagen production, contracting existing collagen fibres.
In addition, radiofrequency facilitates the absorption of the vitamin and also boosts circulation, thereby nourishing the skin from within.
The end result is reportedly an impressive facial lifting / tightening / rejuvenating effect that is produced in a natural, non-intrusive way. The treatment is said to be not just pain-free but actually pleasant - in contrast to other firming and anti-ageing methods which involve painful and intrusive surgery, injections or skin needling.
For optimum results, two types of vitamin C in high concentrations are used for this treatment: a water-soluble form (ascorbyl glucoside) as well as a fat-soluble one (ascorbyl palmitate), for double action within the skin.
Moreover, the treatment can be combined with LipoTherapeia's exclusive "Hyaluronic Acid Radiofrequency Facial" and "Centella Radiofrequency Facial", for maximum results with skin firming and rejuvenation.
Radiofrequency can also be used to remove localised fatty deposits from the body, further refining the facial contours. On the other hand vitamin C is well-known for it's skin whitening and clarifying properties, thereby contributing to a smoother, clearer complexion.
"Results are almost immediate", Georgios Tzenichristos, LipoTherapeia's director, reports. He mentions that contrary to popular belief, anti-ageing treatments actually work amazingly fast in younger women. "Especially in young women you can actually see and touch the difference halfway through the treatment, with many of them reporting that they can actually feel the skin tightening within 20-30' into the treatment. Older patients also experience an immediate plumping and tightening effect, albeit more slowly", Georgios adds.
"But the most impressive thing is that we can offer these results to clients in a pain-free, comfortable manner. Contrary to other radiofrequency treatments, which are known to be extremely uncomfortable, our "deep tissue radiofrequency" method ensures that the treatment is not just pain-free, it is actually pleasant. Some clients are known to fall asleep during treatment!", Georgios enthuses.
As with all anti-ageing treatments, a course of treatments is recommended for maximum results - anything from three to twelve, depending on the condition of your skin and your goals.
The treatment can be applied on the whole face, including the under-eye area, and also on the neck and décolleté areas.
LipoTherapeia also offer an equivalent treatment for the body, which combines the benefits of Vitamin C, deep-tissue radiofrequency and ultrasound cavitation, for the treatment of cellulite and body skin looseness.
------------------------------------------
About LipoTherapeia
The "Vitamin C Radiofrequency Facial" is exclusively available at LipoTherapeia in Mayfair, London. Tel: +44 20 7047 1982. To email LipoTherapeia please fill the form at http://www.lipotherapeia.com/talk-to-the-expert.
Most women experience the first long-term results with "Vitamin C Radiofrequency Facial" in 3-4 sessions, with the best results typically achieved in 6-12 sessions, according to each individual's needs.