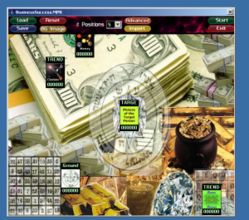 This update is a maintenance release that contains minor updates to the barrage mode load and save . This release resolves a minor issue in regards to operation run times after recalling a saved barrage file. This update corrects that potential issue
Dallas, TX (PRWEB) September 26, 2012
RadionicsBox.com announces maintenance update to The Manifestation Pro 2012 radionics software program. This updated version of the program is available as of Tuesday September 25, 2012.
In order to update to this new version users should uninstall the previous version and then install the new updated version. Users may need to reimport their chi transfer diagram. It is important to note that all image packages, operation packages and sound files previously imported will not be removed by uninstalling the previous version, so they will again be available after installing the updated version. This updated version is recommended for all users of the Barrage operation sequencing module.
RadionicsBox product specialist, Mike Devino, says, "This update is a maintenance release that contains minor updates to the barrage mode load and save . This release resolves a minor issue in regards to operation run times after recalling a saved barrage file. This update corrects that potential issue.".
The Manifestation Pro 2012 radionics software program has been designed from the ground up for compatibility with Microsoft Windows 7. This program is developed by RadionicsBox.com for HSCTI (Hyperspace Communications Technology International) and BEC (Bio Energy Corporation), both owned by Karl Hans Welz, the inventor of the orgone generator, the orgonite material and the science of orgonite powered radionics.
Customers who have purchased Manifestation Pro directly from RadionicsBox.com should contact RadionicsBox using the online contact form to get this update. Users who have purchased the software elsewhere should contact HSCTI directly to get a validated authorization to download. Upon notice from HSCTI RadionicsBox will provide the update free of charge to all validated licensees of the software.