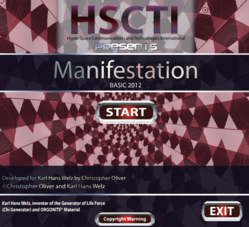 Manifestation Basic 2012 is a great way to get started with radionics at a very minimal cost.
Dallas, TX (PRWEB) May 12, 2012
Manifestation Basic 2012 will be released by the end of May 2012 by RadionicsBox.com. This all-new radionics software program was created to provide and introductory program for beginners at a very minimal cost. It is fully compatible with the Windows 7 operating system.
While many of the advanced features of the Super Manifestation Ultimate program are not available in this basic version all of the basic necessities for creating operations are present. There are 2 programmable positions called "Trend" and "Target". A third position is dedicated to the grounding function. A user begins by double clicking one of the positions on the board to enter position edit more. From the edit screen the psychotronics settings and radionics rate information can be set. An image can be set for the position using the image selection function. Next the text description is entered into the text field. For the trend box a detailed explanation of the outcome should be entered and written in the present tense. For the target position and image of the target should be selected and then the name of the target is entered into the text filed. Radionic rates can then be defined for the positions using the fast rate set button. Unlike the previous version of this program, Reality Boost Jr., Manifestation Basic does have radionic rate settings. It is important to not that there is no load or save functionality for operations, so they must be created each time the program is used. The "Super Chi" hypnotic visual effect is included in this version as well as the ability to import image packages, and individual images for targets. Like other manifestation programs the orgone generator is connected to the program via a structural link using a transfer diagram set.
Product specialist, Mike Devino says, "Manifestation Basic 2012 is a great way to get started with radionics at a very minimal cost. Another advantage is that users of this basic version can always upgrade to the most advanced versions and only pay the difference in price. This allows the beginner to get started and the upgrade to an advanced version after gaining some experience.".
Manifestation Basic 2012 will be available at RadionicsBox.com exclusively for $29.95 before the end of May 2012. For more information visit the RadionicsBox.com website.