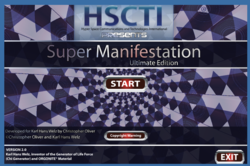 Now users can just watch the videos and they will know exactly how to use the software. Everything from download and installation to importing image packages and program operation is covered
Dallas, TX (PRWEB) August 11, 2012
Radionics Box announces a complete video lesson series covering the operation, setup and installation of Super Manifestation Ultimate 2.0 2012. The Super Manifestation Ultimate radionics software program is a professional level Windows 7 compatible manifestation workstation. This software is designed to be used in conjunction with an orgonite based Welz Chi Generator such as the RAD 2400HD, LPOG 2400HD, RAD-5, ATG-12000, RAD 1000, JU 1000 or LPOG 2400DL. The software is connected to the generator via a structural link transfer diagram system. The software and orgone generator then run together at the same time. Radionics Box believes that users will benefit from the video lessons due to the speed at which a user can master the control system of the software by simply watching and listening to the video lessons rather than reading a manual.
"We are very excited about the radionics software video lessons for Super Manifestation Ultimate 2.0 2012. Now users can just watch the videos and they will know exactly how to use the software. Everything from download and installation to importing image packages and program operation is covered in the series.", says Mike Devino radionicsbox.com product specialist.
RadionicsBox.com is the North American distributor for HSCTI/BEC and only distributes genuine Karl Welz radionics devices and software. Radionics Box is also the software developer for HSCTI/BEC and Karl Welz. For more information please visit their website at radionicsbox.com.