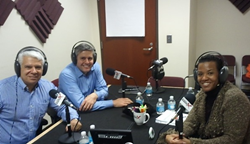 We provide the platform, education and tools to shift the power from Wall Street to Main Street.
Atlanta, GA (PRWEB) February 24, 2014
On February 21, 2014, host Michelle Matthews of Growth Matters on Business RadioX® welcomed to the studio David Lilenfeld with SterlingFunder and Mark Shekerow with CareGiver Communications for a tutorial on crowdfunding.
David Lilenfeld is Co-Founder and CEO of SterlingFunder, an Atlanta-based equity and debt crowdfunding portal with an innovative approach to connecting startup companies seeking capital with qualified investors. According to Lilenfeld, "Our mission is to be the catalyst for business growth, economic development and job creation through the power of the crowd. We provide the platform, education and tools to shift the power from Wall Street to Main Street."
As a lawyer, investor and entrepreneur, Lilenfeld recognizes the enormous effect crowdfunding will have on businesses and individual investors across the country and eventually the world. Explained Lilenfeld, "When The JOBS Act – which makes equity-based crowdfunding legal in the United States – became law, I began planning a way to help match passionate, smart entrepreneurs with intelligent, growth-minded investors in a union that has been unduly burdensome to make before crowdfunding."
Also in the studio was Mark Shekerow, CEO at CareGiver Communications, Inc., an organization that provides information that helps improve the lives of caregivers and those that they care for. They provide a low cost way for local and national companies that provide goods and services for the 60 million caregivers nationwide to reach this $300 billion market. According to Shekerow, "We have evolved from a regional magazine based business to a multi-media company with emphasis on the internet, internet radio, TV and a national publication."
As part of that growth, Shakerow explained, "We've been working on the business for a number of years, and we're to a point where we need additional funding to grow, and that's why we're pursuing crowdfunding."
To learn more about crowdfunding and these featured guests, listen to the complete interview on Growth Matters.
About Growth Matters:
http://growthmatters.businessradiox.com/
Michelle Matthews, President of Matthews Consulting Group and an authority on strategic change, hosts Growth Matters. Join our dialogue to learn about ideas and strategies to spark your creativity and increase your ability to create growth for your company in today's competitive environment. Learn valuable insights from executives and entrepreneurs who have faced the challenges and risks associated with business growth and succeeded. Learn how they have opened doors that have led to professional and personal success. Growth Matters airs each Friday morning at 10am EST.
About Business RadioX®:
BusinessRadioX® interviews dozens of innovative entrepreneurs and successful leaders each week. Its mission is to help local businesses Get The Word Out about the important work they're doing for their market, their community, and their profession. With a pro-business slant and a long-form interview format, guests don't have to worry about being ambushed or talking in "sound bites." Guests have enough time to tell their whole story and to share their insights and experience without interruptions. BusinessRadioX® hosts are business professionals interviewing their peers, drilling down on the critical issues, and delivering practical information to an engaged business audience. Business topics that are frequently covered include: Law, Finance, Healthcare, Technology, Trade Shows, B2B Marketing, Venture Capital, Training and Development and other issues impacting the business community. For more information, visit: http://www.businessradiox.com.