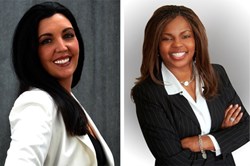 Listeners have a unique opportunity to pick up various innovative industry tips, expert advice, and insider trends.
Atlanta, GA (PRWEB) November 08, 2013
On Friday, November 15, 2013, BusinessRadioX® welcomes to the studio the latest addition to its radio family, Business Leaders of Today, co-hosted by Tess Turrin and Angel Nowlin, from BusinessRadioX® in Gwinnett.
Business Leaders of Today will air every Friday at 11:30am EST. Each week co-hosts Tess Turrin and Angel Nowlin give the best business leaders of today a forum to feature themselves and their companies to discuss different topics that pertain to their industry. Listeners have a unique opportunity to pick up various innovative industry tips, expert advice, and insider trends from the brightest and sharpest business leaders out there today.
Tess Turrin is Vice President of Sales at basiQa, a data-driven, marketing technology company that specializes in Marketing Strategies, by using data analytics, then executing through direct mail, text messaging, personalized URL's and email communications.
Turrin has successfully owned and operated multiple start-up companies through her career and held management positions for some of the largest publishing organizations in the nation. She strives to be the very best she can professionally and personally, and enjoys taking on new technologies that increase her knowledge in the industry, in turn, benefiting her business relationships. Completely self-driven, Turrin is dedicated with a "Can Do" attitude which always has been recognized and continues to allow her to be successful in all aspects of her life.
With over 10 years experience as an entrepreneur, Angel Nowlin is the proud CEO of the Nowlin Group Agency, specializing in business insurance, asset protection, and wealth building for the Business Leaders Of Today. Her BA in Business Management and Series 6 and 63 motivates her to lend her expertise in business insurance, asset protection and wealth building. She also holds extensive licenses in the insurance field including but not limited to property and life.
Focused, motivated, loyal, honest – just a few of the characteristics possessed by Nowlin that makes her a successful entrepreneur. After years of experience as an entrepreneur, she decided to take her knowledge and power to enhance other business owners by spotlighting them and their attributes on Business Leaders of Today.
"Tess and Angel bring an incredible amount of experience in the corporate arena, and their show will be an excellent addition to our studio line-up," said Mike Sammond, Studio Operator with BusinessRadioX®.
Join us for this inaugural episode at 11:30am Eastern on Friday, November 15th, on Business Leaders of Today.
About Business RadioX®:
BusinessRadioX® interviews dozens of innovative entrepreneurs and successful leaders each week. Its mission is to help local businesses Get The Word Out about the important work they're doing for their market, their community, and their profession. With a pro-business slant and a long-form interview format, guests don't have to worry about being ambushed or talking in "sound bites." Guests have enough time to tell their whole story and to share their insights and experience without interruptions. BusinessRadioX® hosts are business professionals interviewing their peers, drilling down on the critical issues, and delivering practical information to an engaged business audience. Business topics that are frequently covered include: Law, Finance, Healthcare, Technology, Trade Shows, B2B Marketing, Venture Capital, Training and Development and other issues impacting the business community. For more information, visit: http://www.businessradiox.com.