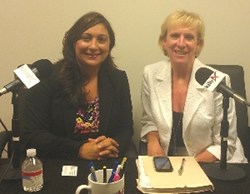 Most of the people who join the Chamber join because they want to be connected.
Atlanta, GA (PRWEB) August 15, 2013
On August 13, 2013, co-hosts Lee Kantor and Stone Payton of Results Matter Radio on Business RadioX® welcomed to the studio Nancy Wright Whatley with the Metro Atlanta Chamber of Commerce and Veronica Maldonado with the Georgia Mentor Protege' Connection.
Named the Vice President of Entrepreneurial Development for the Metro Atlanta Chamber (MAC) in 2010, Nancy Wright Whatley is responsible for generating new business development opportunities for small business members by connecting small and large businesses together. As a former business owner, she understands the challenges of growing a business through the right connections.
According to Whatley, "Most of the people who join the Chamber join because they want to be connected to somebody in Atlanta that they want to do business with." MAC hosts multiple events each week for its members to meet and network.
Joining the discussion was Veronica Maldonado, Program Director for the Georgia Mentor Protege' Connection, a business development partnership between the State of Georgia and the Georgia Institute of Technology's Enterprise Innovation Institute administered by Georgia Minority Supplier Development Council (GMSDC). The goal of the program is to help small businesses to be successful over the long haul, by helping them to develop capacity, enhance their skill sets and become more competitive.
Explained Maldonado, "This is a 12 month program open to all small businesses, usually in the $1million to $30million range. We match them up with our corporate partners to mentor minority-owned as well as all small businesses."
Maldonado and Whatley have actually worked in conjunction together. "We're launching our next program on September 12 with the Coca-Cola Company, and Nancy actually nominated a company for the program," said Maldonado.
To learn more about these guests and programs, listen to the complete interview on Results Matter Radio.
About Burr & Forman's Results Matter Radio:
http://resultsmatterradio.businessradiox.com/
Brought to you by Burr & Forman LLP, Results Matter Radio brings you pertinent business information and real life solutions to help drive desired results – whatever your business may be. We interview Business Leaders and Trusted Advisors about the most important issues in Commercial Real Estate, International Commerce, Healthcare, Family Business, Corporate Litigation, Finance, Philanthropy, Estate Planning, and more.
About Business RadioX®:
Business RadioX® provides a turnkey solution for business owners who want to leverage the power of internet radio to meet their best prospects, establish credibility for their organization and heighten the placement of their brand in search engines rankings. With a professional venue and a proven formula, Business RadioX® helps hosts podcast their shows and create a regular stream of dynamic content to share with their prospects and feed the search engines every week. Programs are recorded and streamed live to the internet from our studios in the greater Atlanta area. For more information or to hear a live show, visit: http://www.businessradiox.com/.