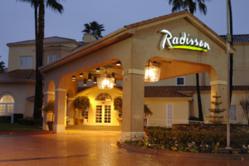 San Diego, CA (PRWEB) January 23, 2012
The Radisson Suite Hotel in Rancho Bernardo was announced today as the winner of Market Target's annual San Diego Hotel Internet Speed Contest. The San Diego Radisson in Rancho Bernardo won this honor by achieving and average guest room speed of 97.3 megabits per second (mbps) over 3 random tests over the course of the year. The hotel was able to achieve this connection speed with their recently upgraded infrastructure from Enteracloud. The upgrade consisted of Category 6 cabling to every guest room and a completed upgraded Cisco core switching infrastructure powered by a high speed, low latency fiber optic connection straight to one of Enteracloud's San Diego Datacenters.
It was worth noting that all guests receive the fastest available speed free of charge. There were no additional fees or charges to take advantage of the wired connections. Wireless connections were also tested at this property averaging 17.4mbps over a single channel Wireless G connection.
Guests and business travelers looking to take advantage of the high speed offering at Radisson San Diego in Rancho Bernardo should contact the hotel directly at 858-451-6600 or visit their website at http://www.radissonrb.com.
To be considered for the 2012 survey and contest, please contact Market Target via phone at 877-828-0196 or email marketing(at)markettarget(dot)com.
About MarketTarget
Since 2009, MarketTarget has been a leading provider of Search Engine Optimization, Search Engine Marketing and SEO Training Services. As a full service San Diego SEO services firm, MarketTarget also offers full service web marketing, SEO consulting services and custom SEO training options specifically tailored for small businesses. What sets Market Target apart from the competition is a mixture of Results, Communication, Pricing and Service. Our team of SEO Consulting Experts is focused on delivering SEO Services for San Diego, Los Angeles, Phoenix, San Francisco and Las Vegas. To learn more about what Market Target can do for you, please call 877-828-0196, email us marketing(at)markettarget(dot)com or visit our website at http://www.markettarget.com
Market Target has offices in the following locations;
Market Target Carlsbad
1902 Wright Place Suite 200
Carlsbad, California 92008
(877)828-0196
Market Target San Diego
445 Eastgate Mall Suite 200
San Diego, California 92121
(858)433-8659
Market Target New York
590 Madisson Avenue
New York City, New York 10022
(212)256-9141
###