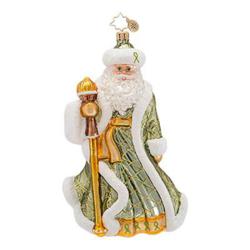 Each year we look forward to seeing the new designer for each of Christopher Radko Charity Awareness ornaments. These heirloom collectible glass ornament are thoughtfully created to reflect the charity cause they represent. We are honored to be a retailer
Duluth, Georgia (PRWEB) May 16, 2013
Christopher Radko Gallery, a leading retail specialist of Christopher Radko ornaments, is thrilled to present the 2013 Christopher Radko Collection of Charity Awareness Ornaments. The new collection of Christopher Radko Charity Awareness ornaments features twelve handcrafted and uniquely designed collectible glass Christmas ornaments, each one aimed to bring awareness to a specific charitable cause. Each Radko Charity Awareness ornament is uniquely designed each year, making them collectible holiday heirlooms to be cherished holiday season after season. This collection of Charity Awareness Christopher Radko ornaments represents an exquisite selection from the stunning 2013 Christopher Radko ornaments. The complete Christopher Radko 2013 collection, including the 2013 Charity Awareness ornaments, is available for immediate shipment on arrival from Christopher Radko Gallery with free shipping on order over $75. All Christopher Radko Ornaments are shipped with an official Radko box and the original Radko tag and charm attached.
The new 2013 Christopher Radko Charity Awareness ornaments include Lymphoma, Heart Disease, Breast Cancer, Environmental, HIV/AIDS, Pediatric Cancer, Diabetes, Autism, Animal Charity, Veterans, Alzheimer's, and Law Enforcement Awareness Ornaments. A portion of the proceeds from the Christopher Radko Charity Awareness ornaments is donated each year to the specific charities associated with each different awareness ornament. Christopher Radko has donated millions of dollars to different charities over the years through the sales of its Charity Awareness Ornaments. Not only are 2013 ornaments exquisitely designed and meticulously handcrafted, but they also serve a wonderful purpose in bringing awareness and funds to each cause.
Introduced in 2013, the new Christopher Radko Lymphoma Awareness Ornament is destined to be one of the top sellers from the 2013 Christopher Radko collection. The Radko Celebrate Martha Christmas ornament, featuring a gorgeous and classic Old World Santa Claus dressed in sage green robes, is very special to Christopher Radko CEO Heather Richardson. She created the Celebrate Martha ornament in honor of her friend and mentor Martha Harris, who was unfortunately lost to Lymphoma. Like the other Christopher Radko Charity ornaments, a portion of the proceeds from each sale of this ornament will be donated to organizations dedicated to researching the prevention and treatment of this disease.
The Christopher Radko Law Enforcement Awareness Officer Nick ornament was introduced in the 2012 mid-year collection. This ornaments features a festive Santa Claus dressed in his police officer uniform while making an important phone call on his cell phone. Other Christopher Radko Charity Awareness top sellers include the HIV/AIDS Awareness Claus for a Cure Ornament, the Breast Cancer Awareness Think Pink Nick Ornament, and the Autism Awareness A Very Important Piece Ornament. Each of these three top sellers feature a brilliant and detailed Santa Claus specifically designed for each awareness movement.
"Each year we look forward to seeing the new designer for each of Christopher Radko Charity Awareness ornaments. These heirloom collectible glass ornament are thoughtfully created to reflect the charity cause they represent. We are honored to be a retailer of these Christopher Radko charity ornaments," says Christopher Radko Gallery co-owner Jennifer Cook. "My favorite Radko Charity ornament for 2013 is the Christopher Radko Celebrate Martha Lymphoma Awareness ornament because of its unique sentimental value to the CEO of Christopher Radko and Old World, vintage inspired design," adds co-owner Jana Contardi.
Christopher Radko ornaments are available year round from Christopher Radko Gallery on the e-commerce website http://www.christopher-radko.com, and in the retail store, Peace, Love & Decorating, beginning September 25th through the end of the year. A leading e-commerce and brick and mortar home decor and gift boutique, Peace, Love & Decorating was founded by Atlanta based interior designers Jana Contardi and Jennifer Cook. The retail store is located at 3129 Main Street, Duluth Georgia 30096.