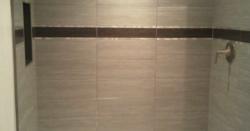 Philadelphia, PA (PRWEB) February 26, 2012
Today, the Bathroom Boss publicly announced an innovative approach to residential bathrooms, which aims to create a spa-like environment in the homes of their clients. Most recently, The Bathroom Boss made this experience possible by installing the state-of-the-art Kohler DTV shower system which includes smart features such as warm-up mode time and the ability to pause water flow.
The $25,000 bathroom remodel for Joe Marrone was located in the prestigious Radnor Township, Pennsylvania, named one of the top 25 "Top Earning Towns" by CNN Money and "The Best Place to Live in the Suburbs" by Philadelphia magazine.
"The Bathroom Boss came with a great reputation from people I knew," says Joe. "He also had some great references on his website. The owner, Mike Treacy, did a total remodel from design to finishing work. He listened to my suggestions and I was involved every step of the way. From start to finish, he was professional, knowledgeable, clean, and very accommodating."
The impressive three room bathroom featured an ergonomic hot tub, a Fresca modern glass vanity, polished porcelain floors, and textured porcelain tile in the 5' x 7' shower. In addition, the former old radiator was removed and a thin German designed Runtal radiator was installed. The bathroom was designed for simple living with a touch of class and modern charm.
"We realize that few spaces in the home are as personal and practical as a bathroom," says Mike Treacy, owner of The Bathroom Boss. "We are very careful to understand our clients' vision and work with them to make their dream a reality. In addition, we spend a great deal of time researching the latest bathroom designs, products, and interior decoration to keep up-to-date with all the trends."
Although the Radnor project was an extensive remodel, The Bathroom Boss can create a personal space that is unique and within budget for any bathroom remodel, large or small. With a team of experienced home remodelers, they are able to care of all aspects of the remodeling process including the design, electrical, plumbing, tiling, lighting, and accessories.
What's more, they treat their customers like royalty. With every complete bathroom remodel their clients receive a set of monogrammed bath towels and with every major master bathroom remodel clients receive a bottle of champagne and a gift certificate for dinner.
"I am very courteous about being in someone's home," Mike adds. "I realize this is not their workplace, this is their home where they live. I am meticulous about my work and handle all the finishing touches myself."
To learn more about this impressive company, please visit their website, http://www.thebathroomboss.com.
About The Bathroom Boss
The Bathroom Boss has the manpower, knowledge, and experience to complete any bathroom remodel. They are careful to first understand a client's vision, and then work with them for the entire project to make their dream become a reality. Their prompt, professional service at affordable prices has quickly earned them a reputation as one of the top bathroom remodelers in Bucks and Montgomery County.
###