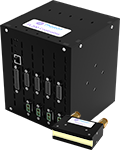 Hillsboro, Oregon (PRWEB) March 10, 2015
Phoseon will exhibit market leading UV LED curing solutions at UV.EB West in Redondo Beach, California. Stop by the Phoseon display to learn more about the new FireJet™ FJ200 8W/cm2 at 365nm air-cooled light sources for coating and adhesive applications. Also on display will be the new FireLine™ FL200 water-cooled light sources for curing ink directly on cylindrical objects. Find out what UV LED curing products meet your application requirements.
This two-day event takes place March 10-11, 2015 and consists of a conference and table top exhibition. The conference program is divided into tracks based upon various UV & EB technology solutions and topics will include: UV LED, UV Inkjet, 3D Printing, Printing & Packaging, Sustainability, and Technology Innovations.
In addition to the exhibit, Phoseon will be presenting at two of the conference sessions. Mike Higgins from Phoseon Technology will present "UV LED Power Play" for the What New Products and Processes will UV LEDs Enable in 2015 Session. Jennifer Heathcote from Phoseon Technology will present the "Market Update on UV LED Applications" for the UV + EB Curing Technology Innovations - General Session.
About Phoseon Technology
In 2002, Phoseon Technology pioneered the use of LED technology for UV curing applications. As the world leader in UV LED curing, Phoseon provides patented LED technology to deliver rugged, high performance products for application specific solutions. The Company is focused 100% on LED technology and provides worldwide sales and support capabilities.