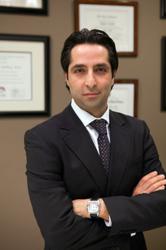 Patients always want to know what they are going to look like. I tell them, I work backwards. I am going to avoid five things. If I avoid these five things, I am certain that you will get a beautiful, natural result.
Beverly Hills, California (PRWEB) February 13, 2013
Top Beverly Hills Plastic Surgeon, Rady Rahban is pleased to announce the launch of a new website intended to help patients find out all the necessary information that they need to make fact-based decisions about their plastic surgery options, particularly if they are seeking rhinoplasty in Los Angeles.
The new site, which can be found at http://www.radyrahban.com, features extensive photography by Dr. Rahban, including extensive and detailed before and after galleries demonstrating his work.
While Dr. Rahban has become the "plastic surgeon of choice" for many discerning Angelenos, it is probably his work as a Master of Rhinoplasty in Los Angeles that really has people talking.
What makes rhinoplasty by Beverly Hills plastic surgeon, Dr. Rady Rahban different? His patients will tell you that it is his attention to detail.
Dr. Rahban notes that many plastic surgeons will practice a "Reduction Rhinoplasty," meaning that in order to make your nose smaller, they will simply take out parts of your nose. It's the easiest form of rhinoplasty for a surgeon to do, and particularly for surgeons who perform a broad spectrum of plastic surgeries, it's the most commonly performed.
In Dr. Rahban's view, however, it's also the one that is the most likely to give you problems down the road. He points out that if the structural parts of the nose – bone and cartilage – are merely removed rather than reshaped, the structure of the nose is compromised. Over time, as the tissue swelling reduces, the nose can contract, shrink and even distort.
What may appear to be a beautiful, small nose one week after surgery is likely to become a distorted nose with compromised breathing when the swelling is finally gone, one year later.
Instead, Dr. Rahban takes the time to perform what he identifies as a "Structural Rhinoplasty." In his words:
"I take out the things that you don't need, and then I put in new grafts, new struts and beams, new things that will reinforce the nose. You don't see it, but it's the stuff that keeps the nose looking great at 1 year, at 5 years, at 10 years."
Dr. Rahban notes that a Structural Rhinoplasty will take him more time in surgery to perform than a simple Reduction Rhinoplasty, but the cost to the patient is no higher. He would rather take the time and do the necessary structural surgery than risk problems and complications for the patient in the years ahead.
It's attention to details like that which make Dr. Rady Rahban the first choice for rhinoplasty in Los Angeles & Beverly Hills.
For many examples of Dr. Rahban's successes as a Los Angeles Rhinoplasty surgeon, and to find your ideal nose, visit his Nose Gallery at http://www.radyrahban.com/gallery/.