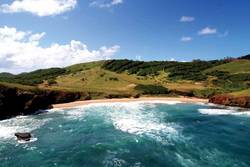 Known worldwide for its refined elegance and unmistakable sophistication, St. Lucia affords the kind of exotic surroundings that are somewhat unexpected in the Caribbean
St. Lucia, West Indies (PRWEB) May 17, 2008
Ideal weather, local dignitaries and a weekend of fun greeted guests from all over the world at the recent Raffles St Lucia Founders Launch, December 7-9. With the Honourable Stephenson King and Allen Chastanet -- the Prime Minister of St. Lucia and the Minister of Tourism, respectively -- on hand, guests at the three-day event were treated to aerial tours of the property and a "sneak peak" at the site of the much-anticipated Jack Nicklaus Signature Golf Course.
The diversity of the attendees made for an exciting Founders weekend and was a reflection of the overwhelming international interest being created at Raffles St Lucia. Over the course of the weekend, the Launch generated close to US $30 million in Real Estate sales. And now, with momentum still high, Raffles St Lucia is announcing its exclusive Phase I offering. A very limited number of coveted Estate Lots and elegantly appointed one-, two- and three-bedroom Residences are currently available. These luxury hilltop residences -- poised high above a peninsula overlooking the Caribbean Sea to the west and the Atlantic Ocean to the east -- will be the perfect setting for a living experience that features spacious floorplans, inviting plunge pools, five-fixture bathrooms and large terraces, all fully furnished to Raffles' standards.
Although a prior commitment prevented golf course designer and property owner, Jack Nicklaus, from attending the event, he sent a personal note to each attendee welcoming them to Raffles St Lucia. This luxury resort-style community promises to give members privileged access to a deeply rewarding lifestyle that includes: a Jack Nicklaus Golf Club -- one of only 25 in the world, a RafflesAmrita Spa, private beach clubs, infinity edge pools, world-class fitness facilities, multiple dining options, plus Raffles' legendary service and hospitality.
The resort, which will be distinguished by sweeping oceanfront vistas, dramatic cliffs, and honey-colored beaches, will also include a 200-room Raffles Resort Hotel and is scheduled to open in the latter part of 2010. Easy access to the resort will be facilitated by a helipad, as well as a local FBO airport that can accommodate a variety of private aircraft. Daily non-stop flights are offered to the island from major East Coast hubs, including New York, Miami, Charlotte, Philadelphia and Atlanta. Direct flights are also available from London, Manchester and Toronto -- St. Lucia's fastest-growing markets.
"Known worldwide for its refined elegance and unmistakable sophistication, St. Lucia affords the kind of exotic surroundings that are somewhat unexpected in the Caribbean," says Mike Collins, Principal and CEO of IMI. "Raffles St Lucia offers a legendary opportunity to create a legacy for buyers from Europe and Asia, as well as North America. The escalating demands from markets like the UK are quite remarkable, especially for offerings like this one, where scarcity is such a driving factor," Collins explains.
IMI, the leading luxury real estate sales and marketing firm in North America and the Caribbean, will oversee sales and marketing efforts for Raffles St Lucia, West Indies. Other members of the St. Lucia Team include: EDSA, one of the world's leading planning and landscape architectural firms with a number of premier projects in the Caribbean; and EllisDon, a proven builder recognized for its innovative and dynamic work worldwide.
The island of St. Lucia is widely lauded as a seaside paradise, bordered by the Caribbean Sea to its west and the Atlantic Ocean to the east. At 14 miles wide by 27 miles long, the island features a tropical rainforest, spectacular coastlines and the majestic Piton volcanic peaks. The private bays and secluded beaches provide an ideal setting for swimming, snorkeling and scuba diving--and the brilliant green landscape presents the ultimate backdrop for island living.
To learn more about becoming an owner at Raffles St Lucia, West Indies, visit http://www.rafflesstlucia.com, or call 800-297-1857 (toll free) or 758-452-0208 (local).
Raffles Hotels and Resorts:
The Raffles collection of luxury hotels has consistently distinguished itself by providing the highest standards of products and services. With locations around the globe, each hotel is a landmark in its respective city, positioned at the top of its local market and rated among the very best in the world. Raffles Hotels & Resorts has earned a legion of international accolades, including Condé Nast Traveler's World's Best Places To Stay and Travel + Leisure's World's Best Awards.
IMI is headquartered in Greenville, SC and specializes in the sales and marketing of luxury resort real estate in the most desired destinations throughout the U.S., Mexico and the Caribbean. Since 1990, IMI has introduced thousands of clients to opportunities for real estate ownership in some of the greatest places in North America, from beach fronts to mountaintops, to towering city penthouses, resulting in over $4 billion in closings for more information about the company and its offerings, visit IMI's website at http://www.imiliving.com or call 864-233-6070.
###