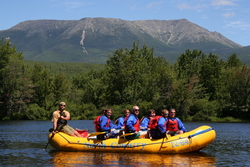 This year we had over 150 inns, campgrounds, restaurants, and chamber information centers who displayed our brochures, posted a weekly whitewater report and had reciprocal internet links. It's great to have that many salespeople out there talking about rafting to their guests
(PRWEB) October 28, 2007
After five years of declining passenger numbers, members of the Raft Maine Association are reporting an increase of 4% on the Kennebec, 10% on the Penobscot and 16% on trips on the Dead River. Maine's whitewater rafting season officially drew to a close on October 13, 2007 after a 176-day season, which began in late April.
Raft Maine members Crab Apple Whitewater, Magic Falls Rafting Company, Moxie Outdoor Adventures, North Country Rivers, Professional River Runners, Three Rivers Fun and Windfall Outdoor Center represent 63% of the state's commercial whitewater passengers.
Figures compiled by Florida Power & Light indicate an increase of 1291 guests on the Kennebec River, up 4% from 2006. Preliminary reports from the Dept. of Inland Fisheries and Wildlife show an increase of 10%, just over 600 passengers, on the Penobscot, Individual outfitter reports from the Dead River indicate company increases of 15-35% for a total of 669 more rafters on the Dead.
Other outdoor adventures activities also saw an up-tick. Magic Falls Rafting Company's moose safaris are up 10%. At Three Rivers Fun, 45% more thrill seekers combined a sky-diving trip with a raft trip on the Penobscot. Scenic float plane rides at Moxie Outdoor Adventures were up 20% and were especially popular with families. North Country Rivers reports that ATV business has shown steady growth and now exceeds its snowmobile revenues.
Raft Maine president Jim Murton credits the good season to a renewed commitment by Raft Maine member outfitters to joint marketing and co-operative efforts with the Maine Office of Tourism, Kennebec Valley Tourism Council, Maine Tourism Association and Maine's hospitality businesses and trade associations.
Says Murton, "We conducted an on-demand direct mail program, participated in travel trade shows and maximized our web referrals through reciprocal links to state web sites. An Associated Press story about family rafting published everywhere from the Boston Herald to the Miami Herald to usatoday.com gave us a big boost. We have the Maine Office of Tourism's public relations efforts to thank for that."
Managing Director, Wende Gray, believes the increase in business is attributable to Raft Maine's Travel Partners program. "This year we had over 150 inns, campgrounds, restaurants, and chamber information centers who displayed our brochures, posted a weekly whitewater report and had reciprocal internet links. It's great to have that many salespeople out there talking about rafting to their guests," says Gray.
Gray reports that inquiries to Raft Maine were up 17% this season and requests for the 2008 season are especially strong from international travelers.
Official rafting industry passenger numbers will be available from the Maine Department of Inland Fisheries and Wildlife in early January 2008.
Raft Maine is a trade association of seven of Maine's professional white water outfitters. Raft Maine maintains a website at http://www.raftmaine.com and a one-call reservation service at 800-RAFT-MEE (800-723-8633).
###