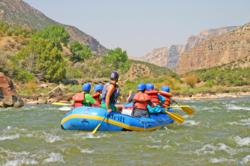 Enjoy the vacation of a lifetime, rafting remotely on a river, exclusively with just you, your family and friends
Jensen, Utah (PRWEB) January 04, 2013
Adrift Adventures, a multi-day rafting company in northeast Utah, has announced exclusive launch dates for four-day Green River rafting trips and five-day Yampa River rafting trips in Dinosaur National Monument to span June 12 – August 23, 2013.
Base rates for exclusive rafting trips begin at $5,500 for a minimum of six participants and rates move to a per person scale as trip size increases, according to Eileen Peterson, general manager at Adrift Adventures.
"Costs decrease as your numbers increase and trips are limited to 25 participants per launch," Peterson explained.
Available 2013 exclusive launch dates for five-day Yampa River expeditions are June 12 and June 15; and exclusive launch dates for four-day Green River rafting trips through Gates of Lodore are June 26, July 5, July 15, August 8 and August 23, according to Peterson.
"Enjoy the vacation of a lifetime, rafting remotely on a river, exclusively with just you, your family and friends," Peterson said. "Explore the park for days with everything you need right there on your raft."
Adrift Adventures is an authorized concessionaire of the National Park Service that provides one-day, four-day and five-day rafting adventures in the heart of Dinosaur National Monument, bordering northwest Colorado and northeast Utah.
"This area offers some of the most remote and pristine rafting in North America – filled with outlaw history and prehistoric fossils," explained Jenny Biggs, operations manager at Adrift Adventures. "Rapids range from beginner to intermediate."
According to Biggs, these multi-day rafting expeditions on the Green River and Yampa River in Dinosaur National Monument are all-inclusive.
"Our professional staff will guide you down the river, take care of logistics and cater meals," Biggs explained. "With these exclusive launch dates you can decide the type of trip you have whether its kid-friendly or a bachelor party."
Contact Adrift Adventures today to secure a 2013 exclusive rafting trip in Dinosaur National Monument with minimal deposit. Call 1-800-824-0150 or email: rafting(at)whitewater(dot)net for more information.