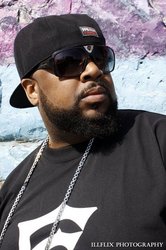 Failure is not an option because I have too many people depending on me to make it
New York, NY (PRWEB) June 16, 2010
Looking to define a man in today's society is usually shaped by his profession, monetary worth, street credibility, and success. Overlooking the critics and embodying humility, loyalty, struggles, and progression, one man has set out to set himself apart from the rest. Rah Grizzly is a breath of fresh air to the rap game not just lyrically but mentally and physically; driven by a blazing purpose and passion he strongly believes "this is the path God has chosen for me." With enough street credit to knock even the best of them, Rah Grizzly has remained humble and a student to mastering his craft. Born in Flatbush, NY; a product of Jersey City, NJ Rah Grizzly is an artist by nature and hustler by blood. Self-proclaimed Human Grizzly Bear, Rah is a force to be reckoned with as a man and an artist. It is the struggles he endured growing up in Jersey City that make him hungrier than ever to put on for his city and escape the perils of adversity.
From his humble beginnings in a hip hop group the learning process proved beneficial and a stepping stone in the road to success. Opening for mainstream artists such as Outkast, Foxy Brown, The Roots, and KRS One to name a few, Rah was able to witness firsthand the culmination of hard work as well as the rigorous schedule he would have to brave if he wanted a shot at this game. Never selling himself short or doubting his talent, Rah Grizzly has since became a solo artist and applied the work ethic to both his music as well as his company, Grizzly Bear Entertainment. Early influences notably include Curtis Jackson aka 50 Cent, a self-made entrepreneur, millionaire and businessman also no stranger to shortcomings or the hustle. Now that Rah has established himself as an artist and entrepreneur he looks up to no one but himself sure he will one day be recognized and a mainstream artist.
A natural born leader, he demands respect and generates an uncanny presence; an intuitive statement professed by his mother long before the music. Upholding the memory of slain friends, a host of supporters and family depending on him, Rah Grizzly has mouths to feed metaphorically and figuratively speaking. The path set before him has not been an easy road but Rah has vowed "Failure is not an option because I have too many people depending on me to make it." And make it is just what he is doing; With two mix tapes out respectfully titled "Head Honcho" and "Grizzly Diaries" and a new summer hit entitled " U Maddd" circulating the internet, the Grizzly Bear has his work cut out for him.
While the hustler mentality is picking up in mainstream artists more than ever today, it is no stranger to Rah Grizzly or this life he calls success. Immortalizing every moment presented even if Rah Grizzly never got signed he proclaims "I would still record just for the love of making music." See for Rah it's a way of life not a means of stability, his lyrics are what connect and pull him outside the hood. Careful with his business and even more mindful of his entourage, Rah understands the sacrifice needed to turn dreams into a reality. Gritty lyrics, raw talent, and a universal message, he encourages his fans to keep an open mind and embrace both the happiness and pain he professes over beats. Sporting a love for this game that stretches back to the 90's and even deeper than rap, he's has everything to prove and nothing to lose.
DOWNLOAD THE NEW EP ENTITLED "BEAR SEASON" FOR FREE!
###