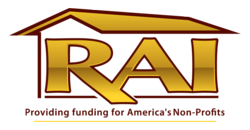 Social media is an important part of our concept and public relations campaign
Ashburn, VA (PRWEB) December 21, 2011
Realty Alliance Incorporated (RAI), a national real estate referral company, uses their Facebook and their Twitter pages to expand their reach. Starting three weeks ago, RAI made a concerted effort to focus on social media. Until recently RAI was focused on internal systems and processes to make sure they were prepared to handle referrals across the country. Now RAI has entered the market full force by focusing on social media. RAI just started their Twitter page three weeks ago and began focusing of Facebook by designing custom pages to clarify their message to fans. RAI believes since the internal processes are now set, focusing on marketing and social media will help raise awareness about their unique concept. RAI has been designed to provide funding for America's non-profits through real estate transactions. By connecting donors and non-profits RAI can generate significant income for non-profit organizations.
"Social media is an important part of our concept and public relations campaign", says co-founder Mike Briel. He goes on to say, "The fastest way to get information out to our partners and to potential donors is through our social media outlet."
RAI relies heavily on a social network architecture to connect civic-minded agents, potential donors, and non-profits. This network emphasis allows RAI to keep costs and overhead down and to transfer those additional monies directly to the charity. Because of this model, RAI is able to give 65% of their referral fee directly to the charity, at no cost to the consumer.
Jim Stakem of RAI explains, "By leveraging modern technology we are able to avoid the brink and mortar model of yesterday, reduce costs, and provide more to charities in need. In these economic times, providing money to charities is more important than ever."
RAI believes that it is possible to be a socially responsible company and remain a viable business. The average charitable contribution to a charity is over $1250 per transaction.
About RAI
RAI has a network of close to 100,000 real estate agents that provide real estate services throughout the United States. The company is headquartered in the Washington, D.C. metropolitan area and has been making significant donations to local and national non-profits since their founding, nearly a year ago.
For more information about making a donation through a real estate transaction, becoming an RAI partner real estate agent, or becoming a charity partner visit us at http://www.raidonations.org or our Facebook link above.
###