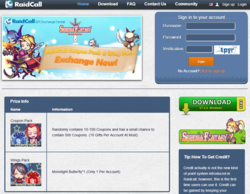 "We welcome game publishers to cooperate with us offering benefit to millions of users," said Shaka Yu, RaidCall business director.
RaidCall International (PRWEB) April 26, 2013
RaidCall officially introduces its new web-based system "Gift Exchange Center" that allows RaidCall users to exchange a variety of gifts by consuming RaidCall Credit Points. RaidCall Credit is not a new kind of point system introduced in RaidCall; however, this is the first time users can actually use these credits. This system allows users to get different kinds of game gifts such as Game Pack, Digital Coupons.
Credit is the currency of RaidCall, and it can be earned by keeping your RaidCall account online. Users can earn one Credit for each hour they are logged on. So far, RaidCall has released two gifts on Exchange Center. These are the Coupon Pack and Wings Pack. For RaidCall users, there are only a few steps to win them. First, enter username and password to login. Second, exchange game gifts according to required credits by just one click. Then the gift that is successfully redeemed can be found in the tab next to "Exchange Game Gifts".
The release of the new system means RaidCall will provide a platform of opportunities for existing and new business partners, such as developers and publishers. With Gift Exchange Center, virtual items or game codes will now be connected with RaidCall by user's consuming credit points. RaidCall currently supports users to exchange game packs of Serenia Fantasy, Wartune and Everlight. In future, RaidCall will target to provide more coupons of popular online shops, such as Steam and Amazon.
For more information about RaidCall Gift Exchange Center, please visit http://www2.raidcall.com/credit/game/1.
RaidCall Client: http://www.raidcall.com/v7/download-raidcall.html.