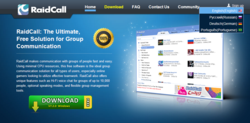 The user's feedback to get the multilingual website is the great drive to motivate us to finish this task better and faster," said Shaka Yu, general marketing manager of RaidCall.
RaidCall International (PRWEB) April 25, 2013
RaidCall launched its multilingual website in April, due to its rapidly growing user base worldwide. The new website includes English, Russian, German and Portuguese translations, depending on the user's settings, so users are able to experience the official RaidCall website in their native language.
RaidCall is aiming to provide the best gaming experience for users worldwide. The launch of multilingual website shows how extensive the RaidCall experience can be. The new website is able to detect the user's IP address and redirect them to the corresponding language website, where users can download our latest client, read through our FAQ section, and use functions in their native language, making it easier to learn more from the RaidCall website.
RaidCall is working together with ESL to host RaidCall EMS One series tournaments around the world. The launch of the new website acts in accordance with RaidCall's goal to serve users worldwide.
RaidCall users are spread across all over the globe. And to match our multilingual audience, RaidCall is already providing client versions in English, German, Spanish, Russian, Portuguese, Persian, French, Italian, Japanese, Korea, Turkish, Belarusian, Chinese and Arabic (14 languages in total). In addition, RaidCall is planning to bring more languages to its website in the future.
RaidCall always cares what its users are thinking about. User feedback is RaidCall's greatest drive to move forward. Recently, RaidCall reduced its voice latency based on user feedback, and now comes the new website system. They will continue to provide the users with a better gaming experience.
RaidCall is the solution for group communication and always improved to give users a wonderful experience. Please visit http://www.raidcall.com to experience the new multilingual function!