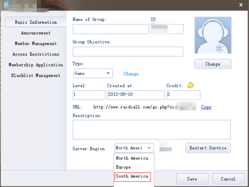 "With the addition of new servers in South America, we hope get the best possible gaming experience while reducing latency. We, as well as other users in South America really appreciated this recent development", said Scoep, a Brazilian RaidCall user.
(PRWEB) May 10, 2013
One of the most featured voice chatting tools of the gaming industry, RaidCall, has just made a thrilling announcement. Due to the rapid growth in the number of new users, RaidCall has established new servers in South America to improve the service for users in this region.
So far, RaidCall has setup servers across Europe, South America and North America, with the aim to serve more global users and provide better voice chatting experience. By adding new servers in the most populated region, RaidCall is making another step towards becoming a global player.
For a voice messenger, high voice quality and low latency are essential to a flawless, edge-cutting experience. And these are exactly what RaidCall is famous for. Even though, RaidCall has never stopped its pace to provide better voice chatting experience, RaidCall continues to invest in its global infrastructure and searches for ways to further enhance its overall quality. For example, a recently released version reduced the voice latency down to a whole new minimum level. RaidCall makes a strong technical barrier to its competitors, by providing probably the smoothest and most user-friendly voice chatting experience online.