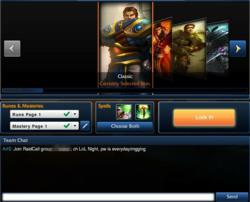 RaidCall is amazing voice tool right out of the box and perfectly suited for gamers, NorthKing said.
(PRWEB) May 16, 2013
RaidCall, a leading social voice communication tool, has recently released a number of user testimonials to its users, to help them use RaidCall more efficiently.
In one of recent releases, a casual League of Legends player called 'NorthKing' described that his 'winning ratio in League of Legends in random matching mode skyrocketed' after relying on RaidCall, as a communication tool.
'NorthKing' continued to praise the technical features: "Unlike other communication tools, RaidCall is flawlessly functional out of the box. I didn't have to host a server, nor did I have to adjust anything to improve the voice quality or latency. It worked amazingly simple and flawless. I have tried numerous tools and except a few exceptions, all other tools either require a good computer with a good internet connection, or you had to pay for a reliable server; something which is hard to realize for casual gamers. But with RaidCall you have everything right on spot. No server, no extra costs and a lot of enjoyable users. […]"
If you want to read the full article, please visit http://www.facebook.com/notes/raidcall/win-more-and-gank-more-in-lol/575270565838750.
RaidCall is a free specifically designed group communication tool, with extremely low-latency and crystal clear voice quality, and thus perfectly optimized for competitive gaming, club activities or online chats with friends. RaidCall is also a pioneer on the global E-Sports market sponsoring some of the greatest organizations and tournaments, such as the Electronic Sports League (ESL) and Evil Geniuses from North America (EG).