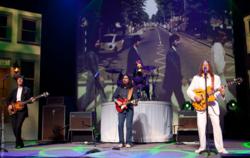 "The next best thing to seeing the Beatles," AP.
Durham, NC (PRWEB) September 27, 2012
Direct from their phenomenally successful Broadway engagement, the internationally-acclaimed Beatles concert, Experience the Beatles with RAIN, returns to DPAC, Durham Performing Arts Center for one performance only on March 12, 2013.
Tickets go on sale Friday, October 5 at 10 a.m.:

DPAC Ticket Center: 919.680.2787, 123 Vivian Street, Durham, NC
Ticketmaster.com / Ticketmaster Charge by phone at 800.745.3000
As "the next best thing to seeing The Beatles!" (Associated Press), RAIN performs the full range of The Beatles' discography live onstage, including the most complex and challenging songs that The Beatles themselves recorded in the studio but never performed for an audience. In addition, new songs are being included with the launch of the 2012 Tour. Together longer than The Beatles, RAIN has mastered every song, gesture and nuance of the legendary foursome, delivering a totally live, note-for-note performance that's as infectious as it is transporting. From the early hits to later classics (I Want To Hold Your Hand, Hard Day's Night, Sgt. Pepper's Lonely Hearts Club Band, Let It Be, Come Together, Hey Jude and more), this adoring tribute will take you back to a time when all you needed was love, and a little help from your friends!
"The audience is enraptured. They get a chance to sing along, twist and shout!"
–The New York Times
"Just turn off your mind, relax and float downstream for a quick fix of nostalgic cheer!"

"A fun-filled family crowd-pleaser!" – Toronto Star
" A two-hour homage to pop music's most brilliant gem." – Los Angeles Times
"On their feet, with arms raised high above their heads, all in the audience were swaying and singing along in blissed-out, nostalgia-powered unison!
-- Chicago Sun-Times
"The enraptured audience relives the soundtrack of its life!"
-- Chicago Tribune
"RAIN creates musical nirvana…makes the hair on the back of your neck stand up! A thrilling bit of time-warping nostalgia...Boomer Heaven!"
-- Fort Worth Star-Telegram
"Uncanny! RAIN are a quartet of fine musicians in their own right…as The Beatles, they triumph!" -- The Boston Herald
"An adoring Valentine to The Beatles!" -- The Washington Post
"RAIN is a spectacular extravaganza…did the audience love it? Yeah, yeah, yeah!"
-- The Philadelphia Inquirer
"Parents (and grandparents) and kids were on their feet bopping like crazy!"
-- The Courier Post
Like The Beatles, the onstage members of RAIN are not only supreme musicians, but electrifying performers in their own right.
http://www.raintribute.com