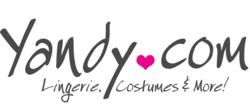 Phoenix, AZ (PRWEB) May 18, 2012
Brightly colored clothing seems to be all the rage this year and at Yandy.com, online retailer of lingerie, costumes, clothing and more, customers looking to get their hands on some of that eye catching apparel can do so easily with the sites announcement of the new rainbow clothing category.
With the rising popularity of raves and large-scale music festivals, the demand for rainbow clothing has reached an all time high. From tops and bras, to panties and leg warmers, there is no area of the body that the rainbow clothing and accessories from Yandy can not adorn. Conveniently located within the rave wear section of Yandy, the new rainbow clothing category is easy to spot, and not just because of the brilliance of its contents.
Beyond ravers and concertgoers, rainbow clothing has always signified peace within the hippy community. Harking back to the days of Woodstock, many hippies wore shirts, hats and pants that featured their version of the rainbow. This new category on Yandy will allow modern day hippies to buy the right clothing and accessories to show off their inner flower child.
Additionally, rainbow clothing can be worn as not only a fashion accessory, but also to signify pride. The new rainbow clothing category at Yandy allows members of the LGBT community, who often use the rainbow to show their unity, are able to shop for rainbow clothing and accessories in a more convenient manor.
With this new rainbow section, Yandy hopes to not only streamline the search for rainbow clothing, lingerie, costumes and accessories, but also to help members of many different sub-cultures find the perfect fashion piece they are searching for. From ravers, to hippies, to members of the LGBT community, the rainbow section of Yandy will provide an area for all fans of this statement making pattern.
About Yandy.com
Yandy.com is one of the top e-commerce web sites today, carrying everything from lingerie, Halloween costumes, rave wear, clothing, swimwear and accessories. Boasting more than 7,000 products available for purchase, Yandy's collection of inventory is unrivaled. In addition to offering such a vast selection of merchandise, Yandy carries everything in-house and ready to ship the same day a product is ordered, a feature rarely seen in the industry. Yandy works closely with all of the designers featured on the site to ensure that the best and most affordable pricing is available to customers. By offering the highest quality products at the most affordable prices in the market, Yandy has become a leader in the e-commerce industry. Yandy also features a dedicated customer service team available seven days a week by phone, email or online chat to ensure that every customer has a pleasurable shopping experience no matter the circumstance. At Yandy, every customer can Be Sexy.