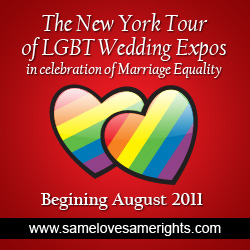 The first of the Rainbow Wedding Network's New York 'Same Love, Same Rights'® LGBT Wedding Expos will be held on Saturday August 6, 2011 from 12:00-5:00pm at the elegant Gotham Hall, on Broadway
Asheville, NC (PRWEB) July 01, 2011
As the state of New York begins to provide the full rights and responsibilities of marriage to its LGBT citizens, the founders of RainbowWeddingNetwork.com proudly announce plans to produce five Gay & Lesbian Wedding Expos throughout the state later this summer. Kicking off the tour of expos will be a full-day Saturday event at Gotham Hall in Manhattan, on August 6th. Additional dates will soon be announced in Staten Island, Long Island, Hudson Valley and Albany. Other cities such as Buffalo and Rochester may soon follow.
"This milestone is worth a grand celebration!" states RainbowWeddingNetwork co-founder Marianne Puechl. "We congratulate the citizens of New York, the governor and the many advocates who have worked so tirelessly in recent years to bring this landmark decision a reality. It is our hope that the upcoming series of Expos can provide a much-needed resource for couples and gay-friendly businesses alike, in celebrating this revitalized commitment to equality."
The first of the New York 'Same Love, Same Rights'® LGBT Wedding Expos will be held on Saturday August 6, 2011 from 12:00-5:00pm at the elegant Gotham Hall, on Broadway. Over fifty local Wedding-related exhibitors who actively support equal rights in marriage and adoption will participate, as well as those representing the Travel, Gift, Legal, Real Estate & Family-related industries. The event will include Music, Fashion, Ceremony Tips, Samples and Giveaways. Key note speakers are to be announced. All supporters of marriage rights are encouraged to attend.
"It is truly a victory for our minority that same-gender commitments are now being recognized in New York, where legislation has previously stagnated," continues Puechl. "It's a time to celebrate, for all citizens to actively and enthusiastically join together and envision the next steps for the LGBT community here in New York as well as throughout the country. This Expo will provide a forum in which advocates and allies, both gay and straight, from all walks, classes and backgrounds can communicate, become more cohesive, and realistically connect with others who seek to end discrimination."
RainbowWeddingNetwork's first Gay & Lesbian Wedding Expo was held in Minneapolis in 2003; a second event then followed in Cambridge just 2 weeks prior to the enactment of same-gender marriage rights in the state of Massachusetts. "We've witnessed a great deal of history unfolding," continues Puechl, "We've met so many amazing people as we've organized these events, and even today couples often attend with tears in their eyes."
The lesbian-owned RainbowWeddingNetwork.com was initially launched in 2000 and to date has assisted countless couples with their ceremony plans, and nearly 10,000 LGBT-friendly businesses reach out to the gay & lesbian wedding demographic. In 2006 the company also began publication of the nation's first wedding magazine dedicated to same-gender couples. Thirty additional Expos are in the planning stages for 2012.
"Our ongoing vision is to promote a higher degree of legitimization for the LGBT minority," says Puechl. "This is a civil rights issue whose time has come."
###