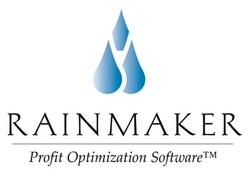 Having a pricing manager is a critical component. Patty helps onsite community managers play an active role in evaluating comp set rates, floor plans and other factors that go into the LRO pricing algorithm
Atlanta, GA (PRWEB) June 25, 2008
The Rainmaker Group and the Laramar Group, a fully-integrated real estate investment and management company, announced the results of a pilot program testing the revolution LRO system, an automated rent optimization system that resulted in an increase in Laramar's lease rental rates by three percent over standard leasing practices.
In an effort to optimize asset performance of its 20,000 multi-family units comprised of investment and fee-based management properties, Laramar tested the LRO system at several select communities for six months. Rainmaker's pilot program measured revenue-billed-per-unit at two similar Laramar communities, one using LRO and one without, in each of six markets. After testing the system and verifying the performance, the communities using the revolution LRO system had a lease rental lift of three percent over same-market communities using Laramar's customary rate setting procedures.
"Our success depends on how profitably we manage the properties we own, as well as those of our fee-management clients," said Laramar CEO Dave Woodward. "To maintain our leadership position, we constantly look at advanced management technologies to increase revenue while improving our operating efficiency. Thus in the fourth quarter of 2007, we partnered with The Rainmaker Group to design a pilot program to test its revolution LRO automated lease rent optimization system."
The revolution LRO system analyzes hundreds of factors that influence rate setting, including historical demand and current market dynamics, and mathematically develops pricing recommendations. In Laramar's Phoenix test community, LRO forecasted a soft period in lease pricing in future months, which helped Laramar successfully maintain leasing velocity. At the end of the test period, Laramar's Phoenix LRO community was operating at nearly 96 percent occupancy in a market hard hit by the mortgage crunch that averaged only 90 percent occupancy.
"In early '08 we were able to maintain a steady revenue stream without the concessions we had to give at our control property, "said Justin Sato, Laramar's assistant VP of portfolio analysis. "LRO took the volatility out of vacancy loss by keeping us in a better occupancy position."
Laramar also hired an in-house Pricing Revenue Manager, Patty Garver, to maintain its optimized lease rent program.
"As Laramar prepares to implement the application across its nationwide portfolio, we have applied a number of new processes to ensure a smooth transition for all our properties," said Woodward. "Having a pricing manager is a critical component. Patty helps onsite community managers play an active role in evaluating comp set rates, floor plans and other factors that go into the LRO pricing algorithm," he said.
With the pilot test completed and its new lease rent optimization processes and system proven, Laramar plans to begin full deployment of revolution LRO among the assets it currently manages, and to share the results with clients it works with as part of the third party fee-based, ownership agreements it has with other investors.
About Laramar
The Laramar Group, with corporate headquarters in Chicago, property management headquarters in Denver and a regional office in Palm Beach Gardens, Florida and Orange County, California, is a fully integrated real estate investment and management company with more than 600 employees across the United States. Laramar and its predecessor have invested more than $1.75 billion throughout the United States. For more information, visit http://www.laramarinvestor.com or http://www.laramargroup.com.
About Rainmaker Group
The Rainmaker Group is a software and services company that provides the revolution LRO profit optimization solution that enables multifamily housing operators to maximize revenue from apartment leases. Revolution LRO is used by more than 60 percent of the companies deploying revenue management systems in the industry and, uniquely, LRO's lease/rent revenue optimization success has been verified by independent third party consulting firms. For more than six years revolution LRO has delivered optimized leasing rates to the largest operators in the industry including Laramar, Archstone, Equity Residential, Post Properties, Simpson Housing, Mid-America Apartment Communities, Home Properties, Julian LeCraw Company and a number of other leading multifamily housing companies.
The Rainmaker Group, a Microsoft Partner, also provides revenue management for more than one-half million units in the gaming hospitality industry. Rainmaker implements and supports the Revolution product suite, which maximizes total property profitability for operators of casino hotels and other hospitality enterprises. The company enables clients to identify and maintain availability for their most profitable revenue sources through revenue management implementations. The Rainmaker Group helps casino hotels increase profitability through the accurate, instantaneous ability to determine the minimum acceptable value of each guest. This increases client profitability by securing the most profitable customers and developing more effective business processes. Hospitality clients include Boyd Gaming, Harrah's Entertainment, Omni Hotels, MGM MIRAGE, Trump Entertainment Resorts and other leading hotel companies.
Contacts:
Laramar
6312 S. Fiddlers Green Circle Suite 500N
Greenwood Village, CO 80111
http://www.laramargroup.com/
The Rainmaker Group
Tammy Farley
5755 North Point ParkwaySuite 77
Alpharetta, GA 30022
Phone: 678-578-5777
Email:sales(at)letitrain.com
http://www.letitrain.com/?campaign=PRWebLaramarJune252008
Media Contact:
Julie Keyser-Squires
Softscribe Inc.
404-256-5512
julie(at)softscribeinc.com
http://www.softscribeinc.com
###