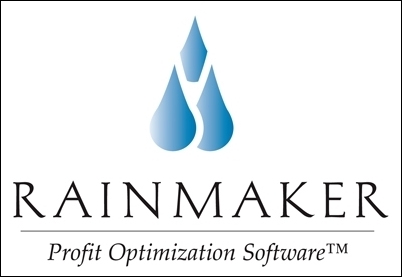 Atlanta, GA, (PRWEB) March 13, 2007
The Rainmaker Group, the world leader in automated revenue management software and services to the casino gaming, hospitality and multi-family housing industries for total property profitability, announced today it is hosting its third annual Client Steering Committee Meeting. The annual Client Steering Committee Meeting is held for the purpose of gathering input from all clients for ongoing product development and to reach consensus on prioritization. In addition to product and service topics, the event, to be held April 1st to 4th in Healdsburg, California, will also feature general educational sessions.
At this year's meeting, Sheryl E. Kimes Ph.D., Cornell University School of Hotel Administration professor of operations management and former dean, will offer a presentation highlighting the results of her research on revenue management tactics for food and beverage operations. Prof. Kimes consults internationally on revenue management practices. Another guest expert will discuss recruitment and strategies for developing and preparing internal revenue management talent.
Tammy Farley, principal at The Rainmaker Group, said, "Rainmaker recognizes that its gaming hotel and hospitality clients are key stakeholders in ongoing system development. We host our annual event to learn from them how to make our revolution revenue management system stronger. Top executives from each client company participate in Rainmaker's Client steering Committee to create a 'project roadmap' for future product development. We have fun together after the work is done, too."
The Rainmaker Steering Committee reviews, validates and adds to the 'project roadmap,' which is a constantly evolving product plan for future development. The group of key revenue management executives assesses how well current system functionality is meeting operational needs and works as a group to set priorities for future releases. Two executives from each gaming and hospitality client attend the event.
Farley stated Rainmaker was fortunate to have Prof. Kimes as a participant. Kimes is one of the hospitality industry's most respected revenue management consultants and teachers and is invited to speak at numerous conferences.
This year's Rainmaker Steering Committee Meeting will be held in the Sonoma wine country north of San Francisco at the beautiful Hotel Healdsburg in Healdsburg, California. The Rainmaker Group has scheduled a reception dinner at a celebrated local winery, an evening of surprise entertainment and other activities for its clients. Last year's conference was held in Miami and featured a keynote by Ernst and Young gaming specialists.
About Rainmaker Group
The Rainmaker Group is a software and services company that provides the revolution product suite, powered by JDA, that maximizes total property profitability for operators of casino hotels and other hospitality enterprises. The company enables clients to identify and maintain availability for their most profitable revenue sources through revenue management implementations. The Rainmaker Group helps casino hotels increase profitability through the accurate, instantaneous ability to determine the minimum acceptable value of each guest. This increases client profitability by securing the most profitable customers while developing more effective business processes. Hospitality clients include Boyd Gaming, Harrah's Entertainment, Omni Hotels, IP Casino Resort Biloxi, Trump Entertainment Resorts and other leading hotel companies.
The Rainmaker Group also provides, implements and supports the revolution LRO SM profit optimization solution that enables multi-family housing operators to maximize revenue from apartment leases. revolution LRO lease rate improvement results have been reviewed and validated by independent accounting firms. For over five years revolution LRO has delivered optimized leasing rates to the largest operators in the industry including Archstone-Smith, Equity Residential, Post Properties, Simpson Housing, Mid-America Apartment Communities and a number of other leading multifamily housing companies. The Rainmaker Group incorporated in 1998.
The Rainmaker Group
Tammy Farley
5755 North Point Parkway
Suite 77
Alpharetta, GA 30022
Phone: 678-578-5777
http://www.letitrain.com/?campaign=PRWebUserGroupMar0132007
Media Contact:
Julie Keyser-Squires, APR
Softscribe Inc.
(404)256-5512
# # #