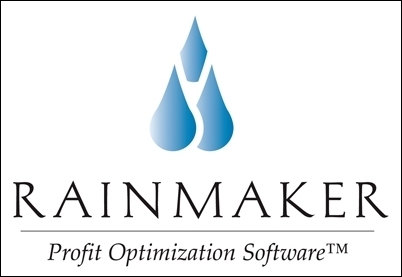 The result of our work to date has been very successful for our casino clients
ATLANTA, GA (PRWEB) March 27, 2007
The Rainmaker Group, a world leader in revenue management software and services announced today it is expanding its technology collaboration agreement with Agilysys, Inc., (Nasdaq: AGYS) a leading provider of innovative IT solutions including systems designed specifically for hospitality. Under terms of the agreement, The Rainmaker Group and Agilysys are partnering to develop a next-generation interface between their respective systems to benefit mutual casino hotel clients.
The agreement enables The Rainmaker Group to leverage the extensive property management market share that Agilysys possesses within the gaming industry. The companies are currently partnering to deliver integrated revenue maximization and property management systems to the MGM Resorts, Boyd Gaming and other casino companies.
The Rainmaker Group provides the widely installed revolution Product Suite of Revenue Management modules that maximize revenue for gaming properties and hotel groups. Agilysys supplies the Lodging Management System (LMS) property management system suite that automates every aspect of gaming hotel operations. Rainmaker and Agilysys are collaborating to enable their systems to seamlessly exchange data and also communicate with other casino applications to optimize revenue and boost operating efficiency for casino owners.
"Rainmaker and Agilysys began working closely in 2004," said Tammy Farley, principal of The Rainmaker Group. "Boyd Gaming, MGM Resorts and other prominent casino companies asked us to provide a new seamless two-way interface between our systems to leverage data from LMS and other property applications. We are working together to provide the interface to our clients and in the process established a relationship of mutual respect." The interface will be a breakthrough that enables casino hotels to base room rates on each guests' total gaming value to generate maximum revenue for the company. "The result of our work to date has been very successful for our casino clients," said Farley. In the past three years Rainmaker and Agilysys have collaborated to install fully-interfaced systems at more than 10 gaming properties.
Tim Coleman, vice president of revenue management for MGM Resorts, said, "MGM utilizes Rainmaker and Agilysys for revenue management automation; together they engineered an elegant data exchange interface for MGM. The solution enables the Rainmaker revenue management system, revolution, to receive and analyze data from LMS, the Agilysys property management system, and then instantly deliver optimized rates back to LMS so we fill our rooms with the highest value guests."
Boyd Gaming's Director of Hotel Yield and Teleservices, Lyra Beck, said, "Rainmaker and Agilysys have a great relationship that benefits Boyd. Their partnership has contributed to increased revenue and greater operational efficiency for Boyd Gaming. The combined output from the two systems enables Boyd to maximize its room rates while always maintaining availability for its top players."
Tina Stehle, vice president and general manager, Agilysys, Enterprise Solutions Group (ESG), Hospitality Solutions, said, "Integrating Rainmaker revenue management into the Agilysys LMS system has been both exciting and rewarding as we have enabled our mutual customers to increase revenue and maximize earnings. The Agilysys and Rainmaker teams work together closely ensuring our customers receive integrated and seamless support."
About Rainmaker Group
The Rainmaker Group is a software and services company that provides the revolution SM product suite, powered by JDA, that maximizes total property profitability for operators of casino hotels and other hospitality enterprises. The company enables clients to identify and maintain availability for their most profitable revenue sources through revenue management implementations. The Rainmaker Group helps casino hotels increase profitability through the accurate, instantaneous ability to determine the minimum acceptable value of each guest. This increases client profitability by securing the most profitable customers while developing more effective business processes. Rainmaker incorporated in 1998 and its clients include Boyd Gaming, Harrah's Entertainment, Omni Hotels, IP Biloxi, Trump Entertainment Resorts and other leading hotel and multifamily housing companies.
About Agilysys, Inc.
Agilysys is a leading provider of innovative IT solutions to corporate and public sector customers, with special expertise in select vertical markets, including retail and hospitality. The company uses technology--including hardware, software and services--to help customers resolve their most complicated IT needs. The company possesses expertise in enterprise architecture and high availability, infrastructure optimization, storage and resource management, and business continuity; and provides industry-specific software, services and expertise to the retail and hospitality markets. Headquartered in Boca Raton, Fla., Agilysys operates extensively throughout North America, with additional sales offices in the United Kingdom and China. For more information, visit http://www.agilysys.com.
The Rainmaker Group
Tammy Farley
5755 North Point Parkway
Suite 77
Alpharetta, GA 30022
Phone: 678-578-5777
http://letitrain.com/?campaign=PRWebAgilysysMar272007
Media Contact:
Julie Keyser-Squires, APR
Softscribe Inc.
(404)256-5512
Julie Young
Agilysys, Inc
440-519-8160
###