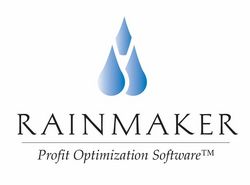 We were concerned that our property operations teams would push back from having 'Big Brother' control their rates, but that did not happen
Atlanta, GA (PRWEB) August 1, 2007
The Rainmaker Group, the world leader in automated revenue management software and services to the multi-family housing and other industries for total property profitability, announced Mid-America Apartment Communities (NYSE:MAA) has completed installation of Rainmaker's revolution LRO revenue optimization system throughout all of its nearly 140 properties comprising over 40,000 units.
"Mid-America recently completed installation of the revolution LRO system after realizing a rate lift of nearly three percent in a pilot test of the application," said Simon Wadsworth, CFO and executive VP of Mid-America Apartment Communities. "We tested Rainmaker's LRO system for nine months in a variety of different properties in different markets. At the end of our analysis the test properties had experienced almost three percent greater revenue growth compared to a control group of similar properties." Wadsworth stated that revolution LRO is already interfaced with Mid-America's MRI property management system so no additional programming was required to automate the rate optimization process.
Bruce Barfield, president of The Rainmaker Group, Inc., said, "Mid-America pilot tested revolution LRO in daily operations three months longer than most companies to be sure they could trust the rate improvement its properties realized. The company compared rates from seven properties using the LRO system against a control group of similar properties that set rates manually." At the end of the pilot test, Mid-America made the decision to install revolution LRO throughout its portfolio. Barfield also explained that revolution LRO is used by more than 60 percent of the companies that deploy revenue management systems within the multifamily industry because it reliably delivers increased lease/rent revenues.
"We were concerned that our property operations teams would push back from having 'Big Brother' control their rates, but that did not happen," said Wadsworth. "Our people embraced the idea of having LRO assist in their pricing decisions. Rate setting is a complex process and LRO recognizes important demand influences that may be overlooked by mangers." Mid-America is currently utilizing the Rainmaker revolution LRO system on an application service provider (ASP) platform. The system is hosted by The Rainmaker Group at its secure SunGard hosting facility. Wadsworth noted that Mid-America would likely transfer LRO hosting to Mid-America's corporate server in the future.
The revolution LRO system has been used by multi-family housing companies for more than six years and its lease/rent revenue optimization success has been verified by independent third party consulting firms. The Rainmaker Group, Inc., an independent technology solutions and services provider whose expertise is focused on revenue management solutions, acquired rights to develop, implement and support the revolution LRO system in 2006. Current LRO clients include Simpson Housing, Equity Residential, Home Properties, Archstone-Smith, Mid-America Apartment Communities and Post Properties.
About Rainmaker Group
The Rainmaker Group is a software and services company that provides, implements and supports the revolution LRO SM profit optimization solution that enables multi-family housing operators to maximize revenue from apartment leases. revolution LRO lease rate improvement results have been reviewed and validated by independent accounting firms. For over five years revolution LRO has delivered optimized leasing rates to the largest operators in the industry including Archstone-Smith, Equity Residential, Post Properties, Simpson Housing, Mid-America Apartment Communities and a number of other leading multifamily housing companies.
Incorporated in 1998, The Rainmaker Group also provides the revolution product suite to the hotel and casino hotel industries. Rainmaker's revenue management solutions increase client profitability by securing the most profitable customers and developing effective business processes that enable clients to identify and maintain availability for their most profitable revenue sources. The company helps casino hotels increase profitability through the accurate, instantaneous ability to determine the minimum acceptable value of each guest. Hospitality clients include MGM MIRAGE, Boyd Gaming, Harrah's Entertainment, Isle of Capri Casinos, Omni Hotels, IP Casino Resort Biloxi, Trump Entertainment Resorts and other leading hotel companies.
About Mid-America Apartment Communities
Mid-America Apartment Communities, Inc. (the "Company") is a real estate investment trust that owns and manages apartments in the sunbelt region of the United States. The Company has grown from 5,580 apartments at the time of its initial public offering in January 1994 to 39,587 apartments today. The Company is traded on the NYSE under the symbol MAA, and is headquartered at 6584 Poplar Avenue, Suite 300, Memphis, TN 38138.
The Company has expanded in the past through acquisition and development, and is currently expanding through select acquisitions mainly in larger cities within its existing market area. The Company actively seeks opportunities to acquire properties that can benefit from its extensive redevelopment and management expertise, and invests to improve the internal growth prospects of its existing portfolio.
The Rainmaker Group
Tammy Farley
5755 North Point Parkway
Suite 77
Alpharetta, GA 30022
Phone: 678-578-5777
Email: sales @ letitrain.com
http://www.letitrain.com?campaign=PRWebMidAmericaAug12007
Mid-America Apartment Communities
Investor Relations of Mid-America Apartment Communities
1-(901) 435-5371
investor.relations @ maac.net
Media Contact:
Julie Keyser-Squires, APR
Softscribe Inc.
Julie @ softscribeinc.com
(404)256-5512
http://www.softscribeinc.com
# # #